Connecticut has activated its emergency weather protocol, which means that it's time for "Summer's Last Stand," an annual Connecticut tradition where we have a heat wave in September right after getting all excited for Fall.
(Maybe that's just me?)
It's always a little tricker to find things to do, because it seems like a lot of our Summer Favorites have closed for the season.
There are definitely still a few ways to stay cool though! Some of our favorites: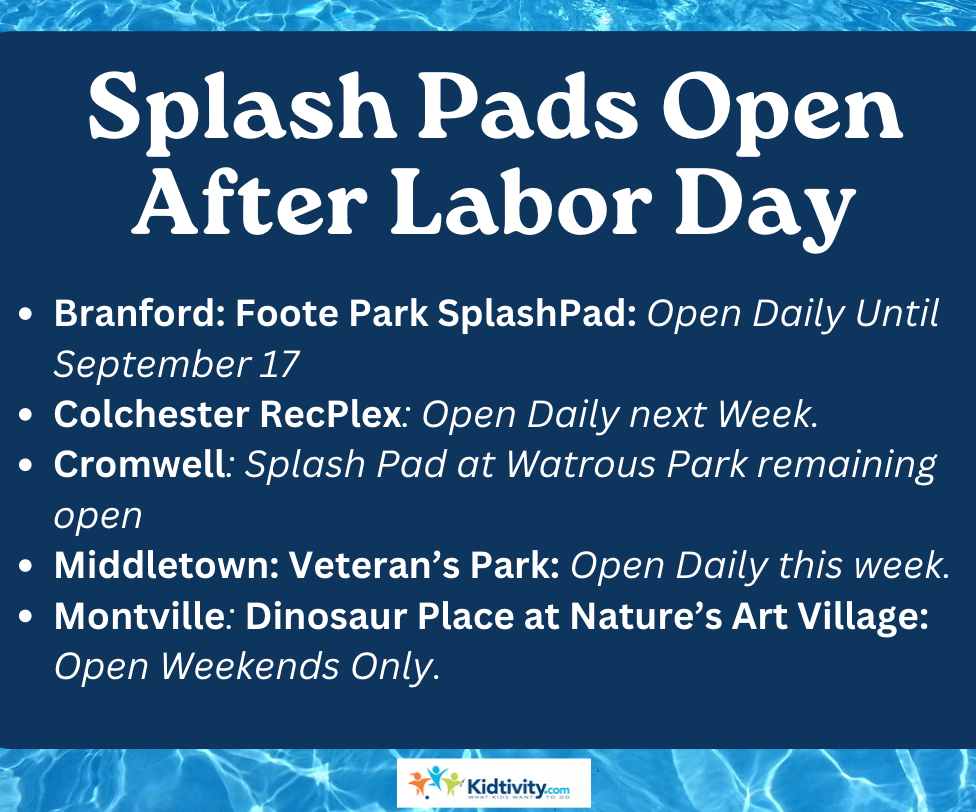 Check out a Splash Pad
Some are still open after Labor Day! This list is ongoing, so check back, but here's what we have so far:
Veteran's Park, Middletown
Watrous Park, Cromwell
Colchester RecPlex
Foote Park, Branford
Dinosaur Place (Weekends Only)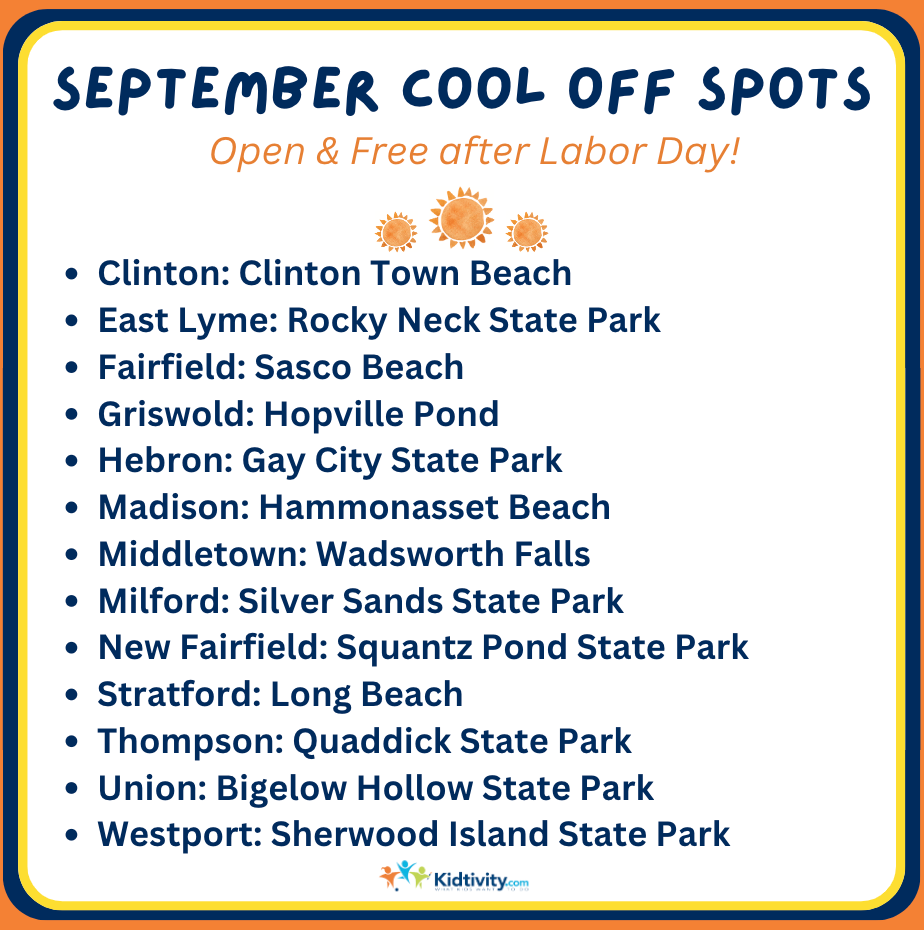 Check out the full list, but here are some favorites:
Burr Pond State Park- Torrington:
Candlewood Lake Town Park, Danbury:
Indian Well State Park- Shelton:
Lake Waramaug State Park- Kent:
Mt. Tom State Park- Litchfield
Sherwood Island State Park- Westport:
Silver Sands State Park- Milford:
Squantz Pond State Park- New Fairfield:
Our kids love to go swimming and it is a great way to get all those wiggles out. Check your local town pool, YMCA or Rec Center for times. Many of these places offer inexpensive day passes for nonmembers to enjoy the water. Plus, some have after school programs!
Restaurant Playplaces:
Flash Back to the '90s by visiting one of the remaining PlayPlaces at McDonalds or at Chick-Fil-A. Pro tip: call ahead to make sure the Play Place is actually open.
Trampoline Park:
So much fun for everyone! Visit FunCity in New Britain to jump the day away. Fun In Middletown is another great option for kids of all ages, featuring areas for babies to grown ups. Other CT Favorites include:
Virtual Reality:
You really have to try this to understand it- and we promise, it is well worth the trip. Xperiment Virtual Reality in Trumbull and Orange offers incredible experiences for kids age 7+ and adults of all ages. The Vault Virtual Reality Center in Seymour is another great pick.
Rock Climbing:
If your kids are climbing the walls at home, take them to a rock climbing gym! There are so many fun places to blow off some steam:
Go Bowling:
It's a blast to the past, but still so much fun! Hit the lanes and have some fun. Some of our favorite spots:
Lazer Tag:
Another great way to blow off some steam. Try lazer tag at:
Head to an Arcade:
Arcades have so many fun activities.
Nomads Adventure Quest South Windsor
Sonny's Place in Somers
Dave and Busters, Manchester