Family Events in Connecticut

Upcoming Events
Events Search and Views Navigation
List of Events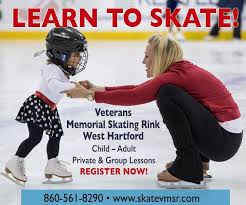 Learn to Skate Lessons have begun again January 2, ending March 7. Ice skating is exhilarating, exciting and most importantly fun and a great recreational sport that can be enjoyed all year round by all ages especially at DJ Skate Nights with the hottest tunes playing!  Skating is a fun form of aerobic exercise with proven cardiovascular benefits. Veterans Memorial Skating Rink is a friendly, clean, safe, and comfortable environment for everyone and currently offers the most public skating sessions in…
More indoor fun  makes it to our list of activities to enjoy with family! Here is a roundup of all the activities for the weekend in Connecticut: Friday, Jan 24 (5 PM-8 PM), Kids Glow in the Dark, (Canton, CT)  Go to the Glow in the Dark Kids Night Out, hosted by The...
Drop Us a Line
Pointing you in the direction of kid-friendly, family-friendly activities in Connecticut!
Reach out if you need suggestions or want us to promote an event or a destination for you.