This is for the sand in your toes, day at the beach, and ice cream lovers crowd. If you want to hang onto summer just a little longer, here's all you need for Labor Day fun.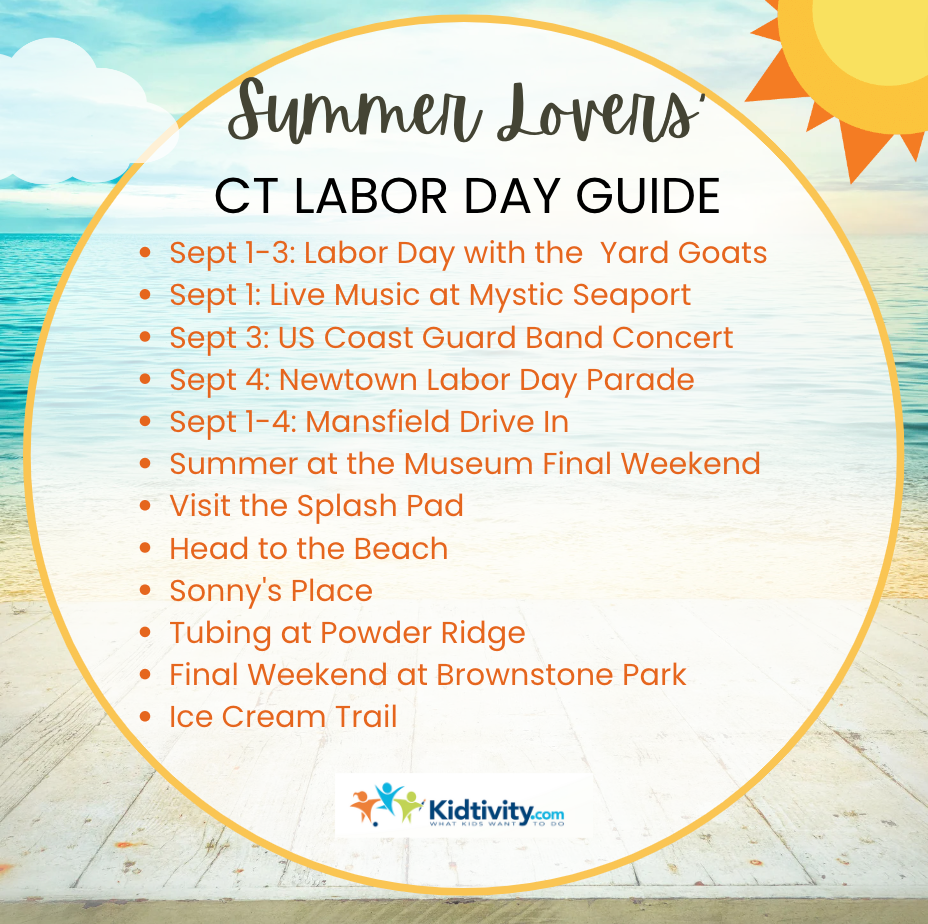 Parades, Concerts, and Games: 
Summer is wrapping up, but there are still a few more Yard Goats Games to catch before baseball season comes to a close. Celebrate Labor Day with Fireworks on Saturday or let kids run the bases on Sunday. 
Mystic- Enjoy the magic of after-hours at the Museum, while you sip summer cocktails and kick back to live music at Schaefer's Spouter Tavern. You'll want to soak up the last weeks of summer with one of the best waterfront views in town!
Avery Point: On Sunday, September 3rd at 5pm at the University of Connecticut Avery Point Campus, the United States Coast Guard Band presents its Labor Day Concert and finale to its summer concert series. This event is free and open to the public, no tickets are required. The Avery Point Campus has accessible entrances, parking, and restrooms.

Newtown- The only town we know of in Connecticut that hosts a parade for this holiday!
Summer at the Museum Events: 
This is one of our favorite things about Summer- and for good reason. FREE MUSEUMS!
Don't miss your chance to head to the  Museum with Summer at the Museum.
Head to the Beach, the Splash Pad, or the Pool
Soak up those last few Summer Days with your toes in the water. Connecticut has some fantastic state parks and family friendly areas to cool off:
Explore the Ice Cream Trail or visit your favorite seasonal food spot
I maintain that ice cream is a year round food, but it is extra special in the Summer. Hit up your favorite ice cream spot, follow the ice cream trail, and stop by those seasonal food stands before they are done for the season.
As always, lots of effort goes into making these lists- but I make mistakes, so definitely check ahead of time before leaving the house. 
Did I miss something? Let me know in the comments or by emailing Kate@Kidtivity.com.