I'm going to be completely honest- I am in no way a sports person. 
Yard Goats games are different. Our whole family always has a TOTAL BLAST.  I'm not sure if it's a minor league thing, but they are so interactive and kid friendly! Active kids will love being able to run the bases on Sundays. Plus, Fireworks on Saturdays, themed days- think "Wizard Night" "Marvel Night" and "Princesses and Pirates Night." 
The "vibe" also hits different – they just seem to get kids. The game is so interactive and features a lot of opportunities for audience participation via cheering, Jumbotron- the list goes on and on.
Add in a thriving food scene, and some fun printables we put together, and all of the sudden it's a really fun night out with the kids- even for non-sports people. 
Planning your visit:

 
When to visit: Weekday games are generally scheduled for later (7:10PM), whereas Saturdays are an hour earlier (6:10) and Sundays are early afternoon games (1:10)- and they're all on our events calendar! Be aware that the afternoon sun can be very hot, so if it's a Sunday game, think about bringing extra water and choosing a spot where it's shadier.
Every game is kid friendly, but some games have extra special surprises. Here is a list of their special promotions for 2023: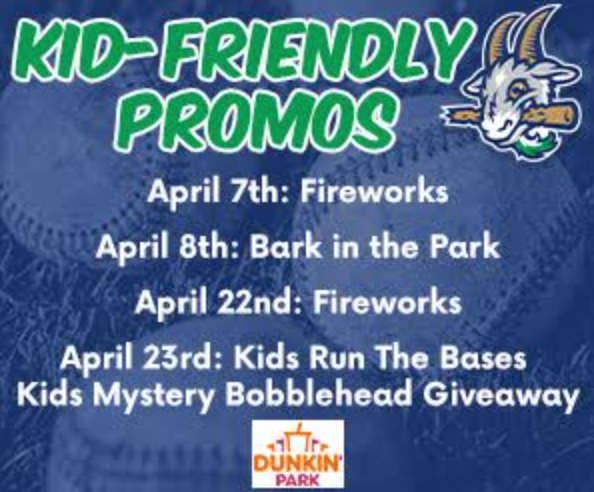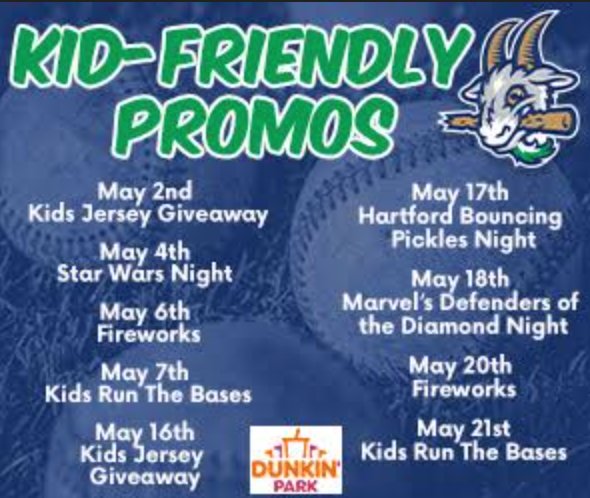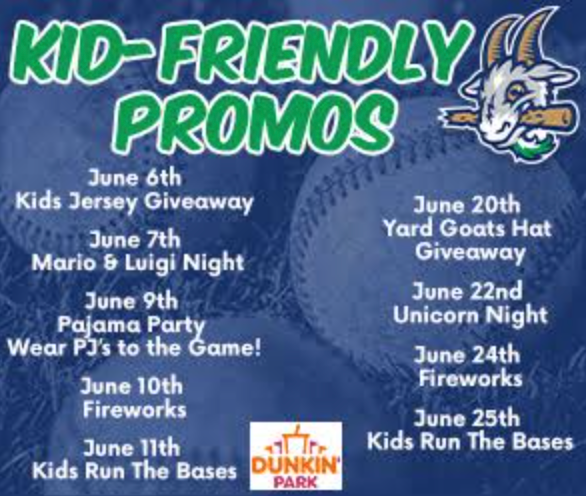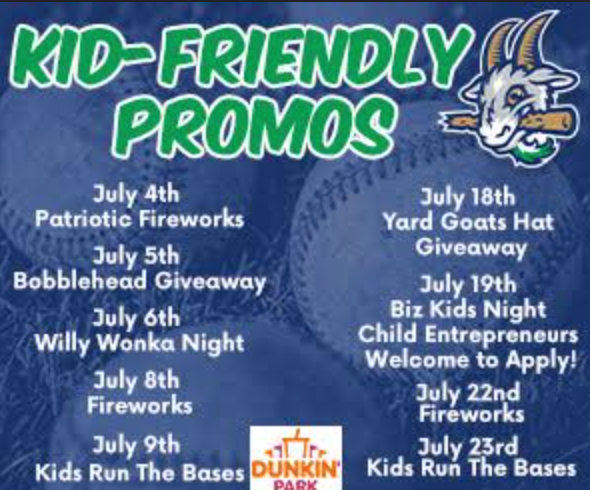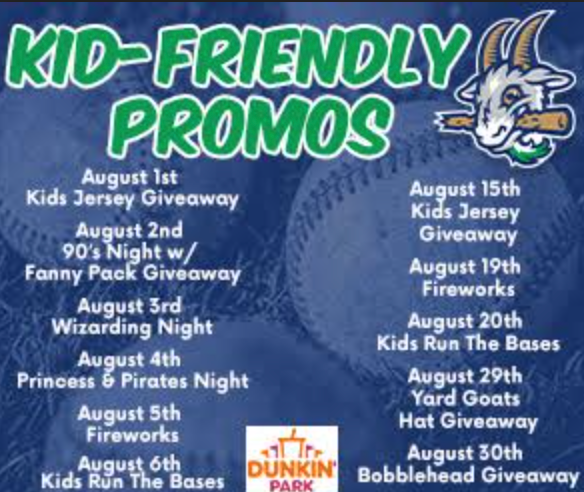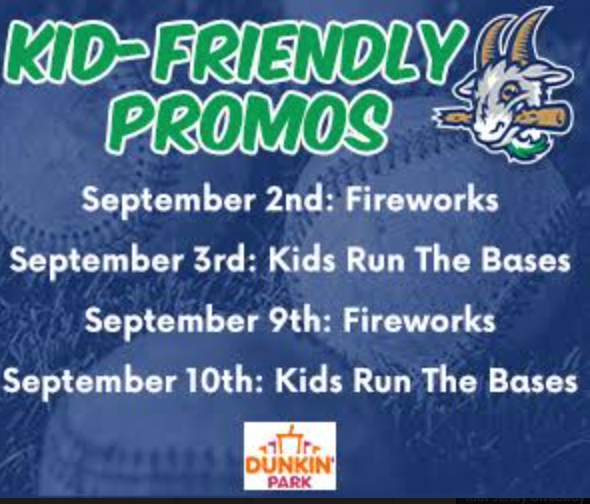 How much it'll cost: Most tickets are between $12-$28. Kids under 3 do not need a ticket, but will have to sit in the lap of a paying adult.
Where to sit: Behind the net is definitely the safest- those foul balls can be dangerous! 
There are a lot of different choices for seating- from field box, to outfield, to high top swivel, to a fancy club area.
Much of the park has a double-decked seating, so there are a lot of areas to find shade. The areas of the park with the most shade vary by time of day- for an afternoon game, the away team area seems to have more shade. They also have seats that are on the concourse and less exposed from the elements.
How long it will take: Most games are about three hours- the longest ever was just over 4. You can choose how long you want to stay: most of the time, gates open just over an hour before the game (actual times posted on website), and some events take extra time after the game (like "Kids run the Bases").
Inclement Weather Policy: Per the Yard Goats website: "If less than 5 innings of a game is played (4 1/2 innings, if the Yard Goats are ahead), any ticket to that game may be exchanged for one of equal or lesser value to any remaining regular season home game that season based on availability."
Best place to avoid my child being able to run into oncoming traffic? The park itself is really well laid out for nervous parents- there are Goats employees stationed at all the entrances and exits. Also, the seats are at a really low incline, so it's hard for them to fall onto the field (if you, like me, worried about that too…) If your child does disappear into the crowd, tell an employee right away. They have a whole procedure they can follow. You're in good hands.
Packing for Success: It's all about preparing for the elements- on this day, this meant:
 ALL OF THE SUNSCREEN

Water- you are allowed to bring water with you.
Bug Spray
Sun hats
Extra Snacks (note: Dunkin' Park is fully peanut free, so please avoid peanuts)
Extra Change of Clothes (It took my kids approximately 0.2 seconds to spill a giant ice cream all over themselves.
Diapers, Wipes, the usual….
Something to entertain small attention spans- we brought the Color Wonder books and our kids liked drawing their version of what was happening in the game.
At the Game

:
Parking: the Yard Goats have one of the most comprehensive online guides to parking that I have ever seen. They include it with your tickets in an email before the game.
There are a handful of main lots:
300 Market Street (Easiest for 84 Westbound and 91 North & South)
1000 Main Street (Easiest for 84 Eastbound)
275 Windsor Street
1181 Main Street (Typically is full 1 hour before the gametime)
There are also a handful of other lots, but we've never had a problem with finding a spot. Traffic seemed very well handled-we weren't ever stuck in traffic, even on sold out games.
They also list a number of public transport options and details on how to find the Park.
The Bathroom Situation: They have TONS of bathrooms and they were all very clean anytime we went to use them. They have Men's, Women's, and Gender Neutral/Family – all of which have changing tables . Plus, the Yard Goat Mascots (Chompers and Chew Chew) are on all the bathroom doors. Both my preschooler and I found this hilariously awesome. 
The Stroller Situation: Since steps are on an incline, it's difficult to bring strollers right to your seat. They do have stroller parking available and it seemed like there was plenty of room on the concourse to push them. If you sit on the main level, you can sit with your stroller.
Nursing/Quiet Calm Down Area: The General Manager generously offers his office to anyone needing to nurse. They have a room off the main level that can be used as a quiet calm down zone when it is available. If you are in a situation where you need either, just ask someone at information. They'll get you to where you need to be.
Snacks/Lunch/Dinner:  Ok, so I thought this would be a cute feature on bringing your own snacks.
But then the Park Food was calling my name, and so I wound up inventing a whole Bingo game as an excuse to taste test everything. I have no regrets. It was excellent.
Our favorites were definitely the Popcorn, Bear's Smokehouse, and the ice cream ball cap sundae.
If you're as into delicious baseball snacks as I am, the Yard Goats actually have their own food website: Goats Food Finder.
Also: Did you know that the Goats partner with local sports organizations for their concessions? That's right, when you buy those Bacon Wrapped Munchkins, you might be helping a local swim team pay for summer training. Look at you, doing so much good!
Park Layout: As the map above shows, you can easily walk the concourse around the whole park. There are entrances by the Budweiser Sky Bar, the Team Store, and under the YG Club. They also do a great job of spacing out bathrooms and food stands so that you can pretty much find something every few feet. It makes the whole experience very easy to navigate.
Gift Shop: Oh boy. I'm not sure who controls Yard Goats merchandising, but I swear they must have a magic window into the brain of everyone under 12. And also over 12. And also me. 
Baseball Caps? Yes. The cutest little kid's jerseys? Absolutely. Hot Dog Hats? Of course. Squishmallow-esque versions of Chompers and Chew Chew? You Betcha.
If you are looking to avoid the gift shop, however, it is very easy to distract kids (and you!) with everything else that's going around- especially since it's so close to the BABY GOATS! Speaking of:
Baby Goats/Family Fun: This is one of my favorite things about the game- BABY ANIMALS and kid's activities. Make sure to pause and take a walk around the park during the game to find everything. 
Sensory Considerations: As it is a baseball game, parts are loud. Since it's outdoors, it's easy to step away. For most games, they also have an area where kids can go if they are melting down- just ask guest services.
We found it helpful to play some sounds that kids will likely hear at the games: like this Home Run Song, The Jingle, and we also made a few videos on our Shorts Page about it. We found this went a long way to calming nerves.
The other thing that helped our kids was knowing they'd be able to run around on the field after the game (We went on a Sunday!)- and oh boy did they LOVE THAT.
Looking for even more info? Visit the Yard Goat's Webpage, and check back here for updates!
This article was published in May 2023 and current at the time. We will do our best to continue to update, but as always, it is best to call the venue and do your own research too. 
Have a place you'd like to see? Email Kate@kidtivity.com and we'll check it out!