Y'all. When I was told that the Yard Goats wanted us to help them present the Pajama Party Game on June 9th, I freaked out. I'm not a sports person at all, but even I get super excited about taking my kids to games with the Yard Goats. Between the great food, fun activities, and general excitement, it always feels like a little getaway.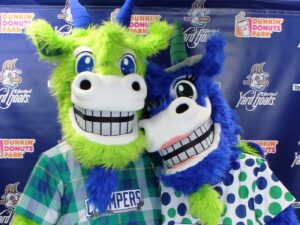 Anyway, when I learned that we'd get to be part of Pajama Day with the Yard Goats, I knew we'd have to do something truly fantastic. Luckily, my friend and family photographer extraordinaire Cate Augello was willing to help out. On June 9th, we'll be offering free family mini sessions- including one digital download that's yours for free to take home. 
Looking to add EVEN MORE FUN to your Yard Goat game experience? We're going to be running some fun games and contests: Design a Mascot, Food Bingo, and a Selfie Scavenger Hunt. Turn them into our table for a chance to win some cool prizes! 
Of course, you don't have to wait for June 9th to enjoy the fun- check out the Yard Goats Game Schedule here- and our downloads are available at this link: