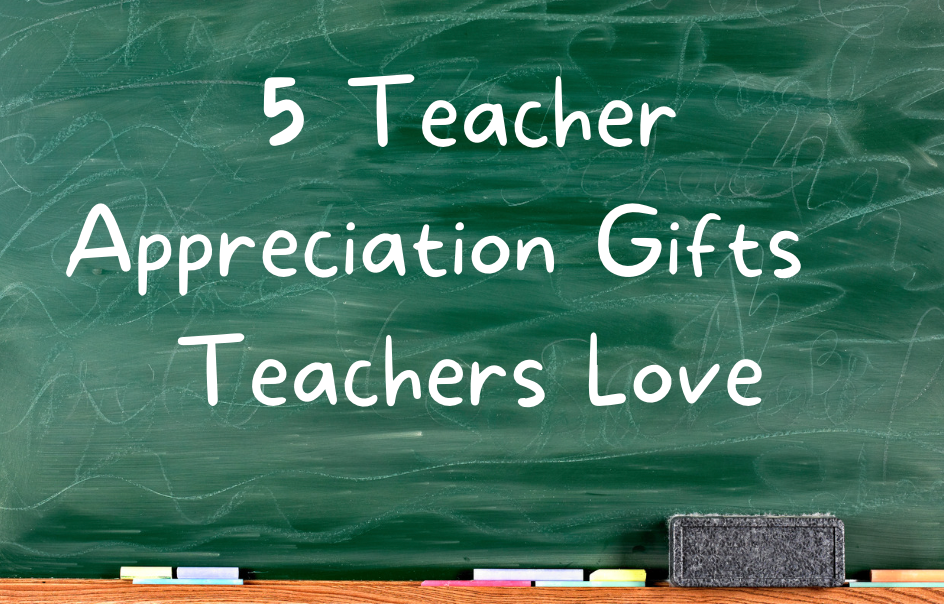 Teacher Appreciation week is almost here (it's May 8-12 this year!). As someone who taught for almost a decade, I got to know Teacher Appreciation Week pretty well. 
One thing that often surprises families when it comes to Teacher Appreciation is that the very best gifts you can give us are low-to-no cost. Looking for ideas? Below are the 5 Teacher Approved Teacher Appreciation gifts that I know my colleagues would love to get for Teacher Appreciation Week.
A drawing/card/handmade gift from your child: 
This is always my top favorite gift. To this day, I still have a drawer full of handwritten notes and cards from my students. When I taught full time, I used to keep them in my desk and look at them during bad days. These little notes were what kept me going. It really doesn't need to be anything fancy- some of the ones I treasured most are just a few sentences on a Post it Note.
Need a homemade card idea anyway? We had fun making these butterfly cards.
Stuck on what to write? Try: 
Thank you for being my teacher. I really love it when you ___________. My favorite thing we've done so far this year is ______________.
I'm so glad I'm in your class!
Sincerely,
Your child
Email to your child's teacher: 
(Bonus points if you cc the building principal- or just send them an email too):
One of the nicest things that parents did for me was to email a few sentences saying how what I did impacted their child. They were among the most meaningful emails I received over my teaching career.
It doesn't need to be anything fancy-  just a few sentences saying that they made a difference for your child.
Stuck on what to write? Try:
Dear _________, 
I wanted to let you know that you've made a huge difference in my son/daughter, __________'s life. He/She really loves it when you ____________. The best moment for him/her this year was _____________. We are so grateful to be in your class this year! 
Thank you for making school a special place,
_____________________
Supply something the classroom needs: 

Things like GOOD paper towels (aka normal kitchen paper towels), baby wipes, Kleenex, a box of sharpened pencils or a donation to the class field trip fund  are always appreciated and make more of a difference than you realize. You can also make a donation to the class's Amazon Wish List or Donors Choose if they have one. Alternatively, check with the school library to see if they have a program where you can "Buy" a book in honor of the teacher. 
Bring Snack/Something fun to share with their class: 

Before bringing food or something to share, check in with your child's teacher on school/class policy. That said, some of my favorite treats were the ones I got to share with my students. It was always way more fun that way, and turned a normal day into a special day- and always filled me with warm and fuzzies that reminded me why I became a teacher. 
Consider Gift Cards:
I know, it seems sort of lame, but gift cards to Amazon/Dollar General/Dollar Tree/whatever local school supply store were always fantastic because it helped me buy last minute supplies without breaking the bank. Having these cards on hand made a huge difference. 
What do you do for Teacher Appreciation Day? We want to know! Leave us a comment below or email Kate@kidtivity.com and you could be featured here!