Want to go to the Connecticut Science Center, but wondering how to get started? We have been there- as a neurodivergent family with two young children, leaving the house is always a production.
To help other families, we put together this guide of things that helped us to know! Below, find answers to questions like: "When is it quiet?" "What are the odds my children can run screaming from the building?" "Where is there a calm down zone?" "Can you tell me how loud different exhibits are?"
Planning your visit:

 
When to visit: In general, the museum is open Wednesday-Sunday from 10am-4pm. During the summer, there are extended days and hours. We've found that school year weekdays between 2-4pm are the quietest time, with sunny days also being relatively quiet. 
Additionally, the Science Center offers Sensory Friendly Days once per month at a special rate. 

How much it'll cost: Adults are $25.95 and kids over 3 are $17.95. If you enjoy your time there, we recommend applying the cost to a membership.  Financial Aid is available through the Access Membership Program. 
Packing for Success: The entire museum is stroller friendly, and it's great to have a place to stow things. We usually bring a backpack with snacks/water and a change of clothes. KidSpace is a blast but we always end up SOAKED. If you have a child who is noise adverse, it's good to bring a pair of noise reducing headphones – some of the exhibits are LOUD! 
How long it'll take: If you're going for just one day, you can easily send a whole half day there between their shows, their activities, and the exhibits. Our younger kids get tired a little more quickly, so we typically spend about two hours. 
*Pro Tip: Consider a membership, especially if you have younger children. It's great to do the museum in chunks. We've gone about 10 times so far this year, and haven't even touched on seeing everything. 
At the Science Center:
Parking: Available in the garage connected with the Science Center. Laz Parking charges about $3/hour for parking. Members get $5 parking all day. The garage has plenty of room and is relatively easy to navigate. Elevators are available on each garage floor and will take you straight to the main atrium. 
There is also a fantastic escalator at the very ground floor of the garage that my children are obsessed with.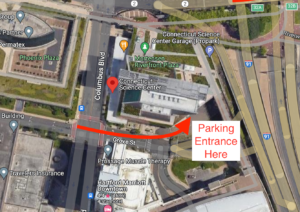 The Bathroom Situation: There are bathrooms just inside the main entrance and off to the sides of each exhibit. KidSpace has a family changing area available (SUPER helpful if your kids end up soaked and you need to change outfits!) Changing stations are available in both men's and women's rooms, and step stools are plentiful to help little ones wash up.
Gift Shop: located in the Science Alley/the Main Atrium. For parents who dread the gift shop drama: it's easy to pass by since there is so much going on. 
Stroller Situation: Stroller friendly. We generally bring ours.  
Snacks/Lunch: There are a few designated snack/lunch stops – one right in the main atrium and one outside on the patio. There's also a Subway if you're looking for something quick and easy. To keep the exhibits clean, no food or drink is allowed. 
Exhibit Layout:
There are 4 floors that families can visit:
The ground floor hosts the entrance, the theater, Subway/eating areas, and KidSpace.
The next open floor is the 4th floor, which has Engineering Lab/Forces in Motion/Sound Experience on one side and the Traveling Gallery/ Butterflies on the other.   
The 5th Floor houses Exploring Space/Invention Dimension on one side and Gnome in Me/Health Lab/Sports Lab on the other.
The 6th Floor is both Rooftop Garden and Energy City/Our Changing Earth/River of Life.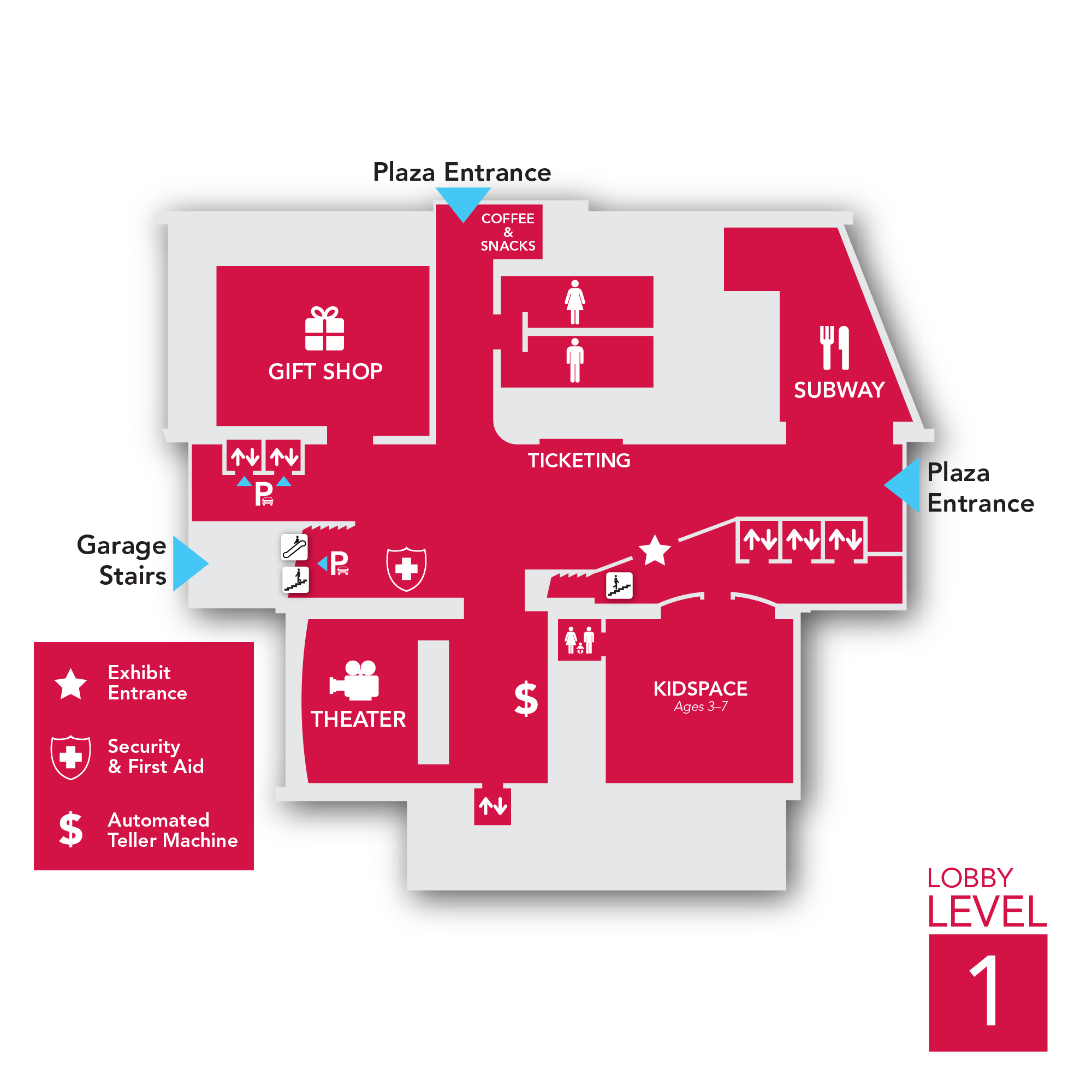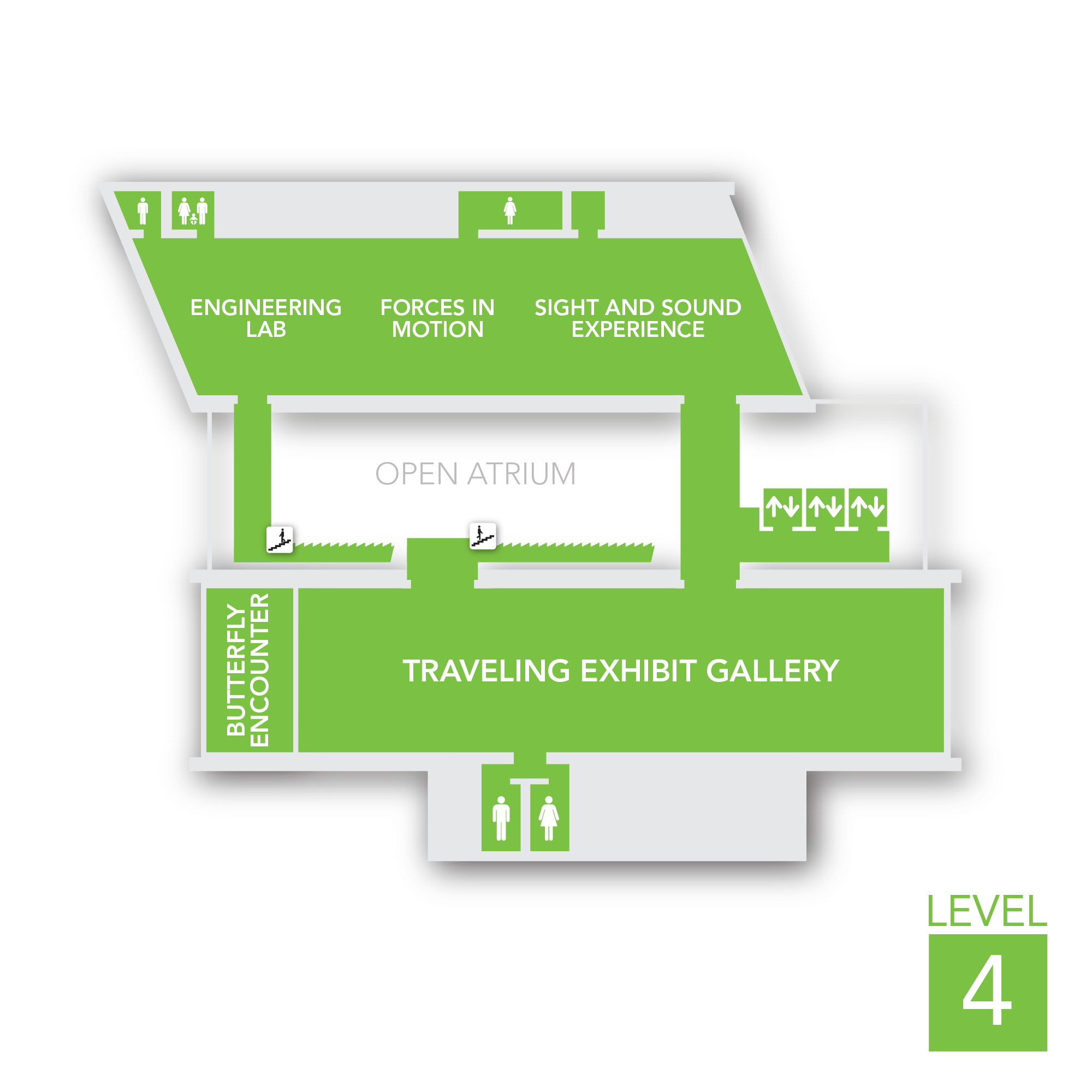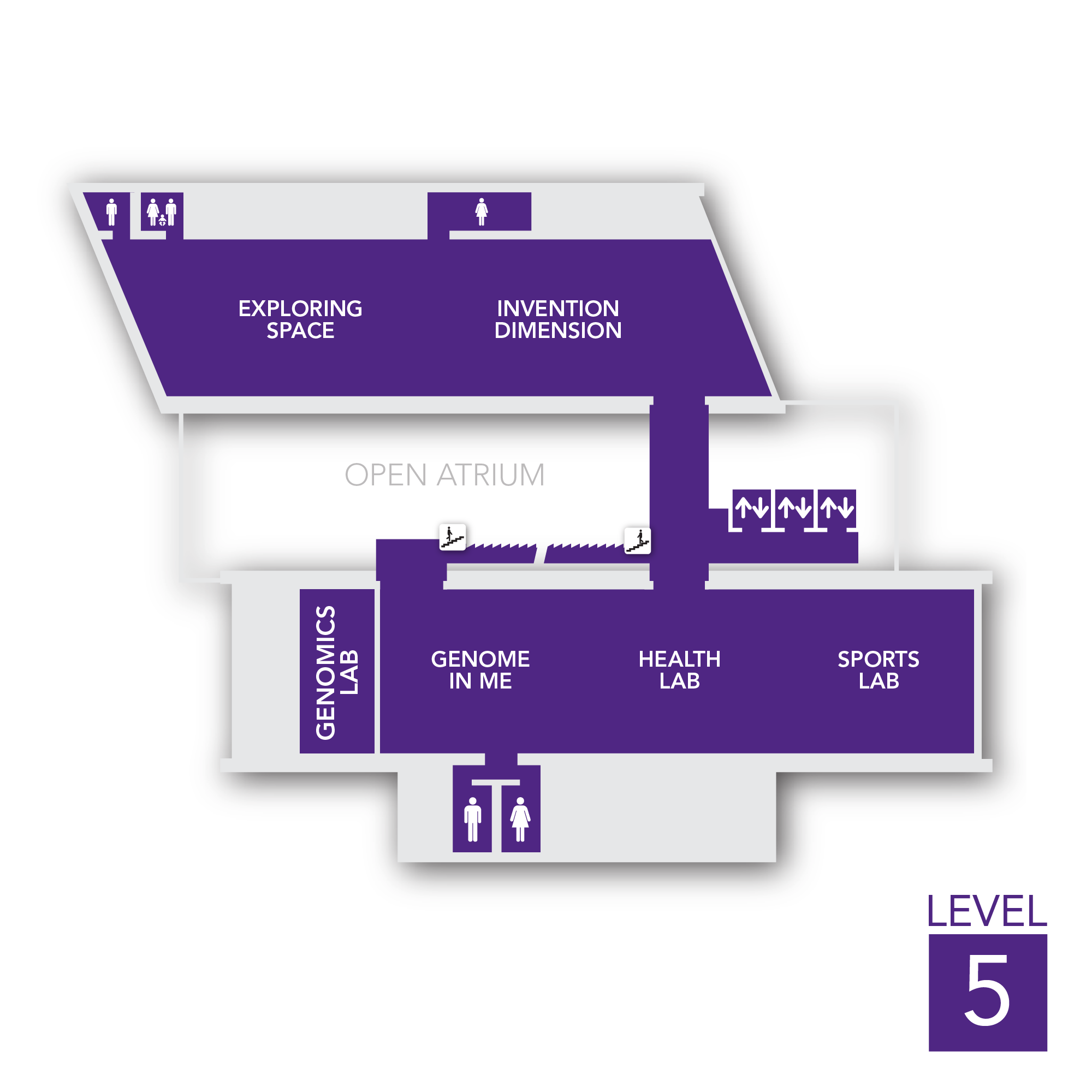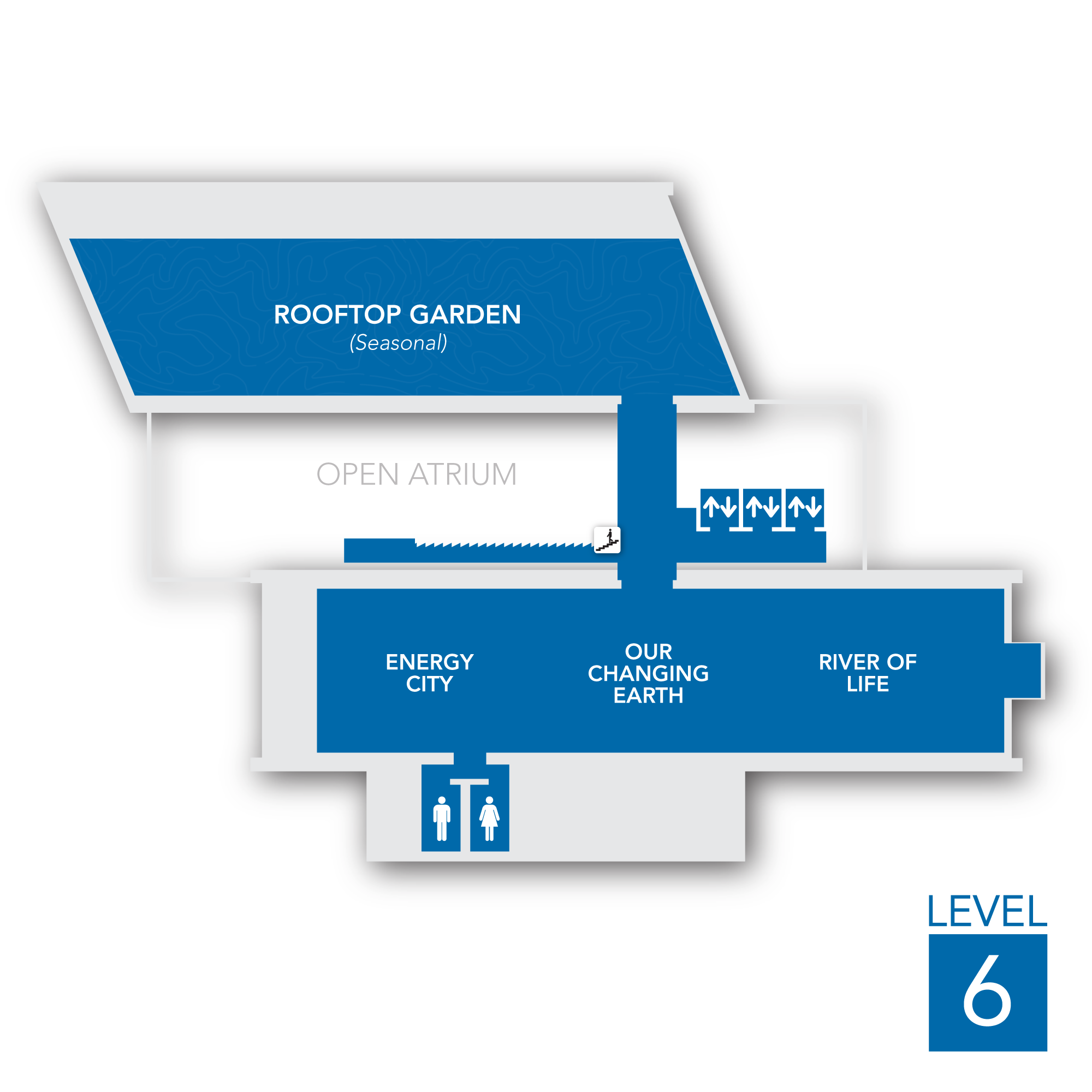 How much to see:  Our younger kids typically do best with 2 exhibits that they can really get into. Older kids will love the whole museum! We tend to always do KidSpace (honestly, my preschooler & toddler would spend the entire two hours there if I didn't insist on dragging them to see other exhibits) and then one other exhibit. 
Most exhibits really have something for everyone. It's important to note that KidSpace is geared towards children under the age of 7. Some of the shows can be a little overstimulating for younger viewers, and I found the Butterfly encounter challenging with my grabby toddler. 
In terms of planning time, it's helpful to do the exhibits in one section at a time. There's a flow to them. For example- our kid testers like to start with Sight/Sound and work their way down to Engineering Lab on the Fourth Floor.
If you want detailed looks at the exhibits, check out our Youtube/TikTok pages!
Noise/Sensory Level of the Exhibits:
Quieter exhibits include Under the Canopy, Butterfly encounter, and Rooftop Garden. 

Mild sensory stimulus at Exploring Space, River of Life, Energy City. and Invention Dimension. 

Moderate sensory stimulus at KidSpace, Sight and Sound, Genome in Me, Health Lab, and Changing Earth.

Loud Noises and lots of activity at Engineering Lab, Forces and Motion, and Sports Lab. 
We created this very unscientific chart to show our general take on the noise level of the exhibits during normal hours: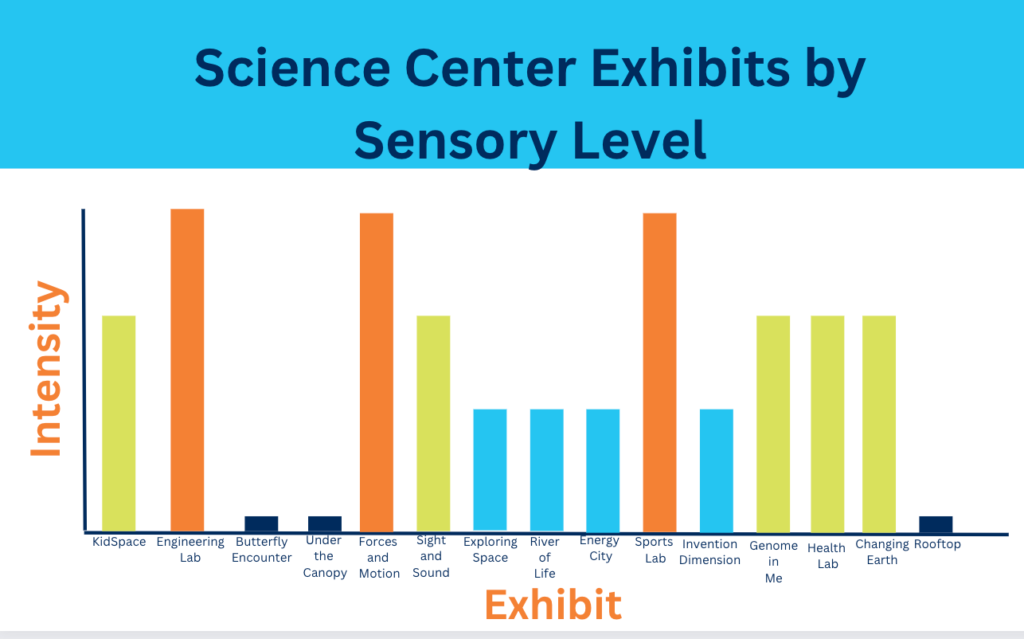 Nursing/Quiet Calm Down Areas: They offer a First Aid/Calm Down/ Nursing area right next to the Theater. Just ask security and they'll get you squared away. 
Odds of My Runner Child Being able to head into oncoming traffic: 
The CT Science Center is accessed through the garage, which means that once you're inside, it's relatively difficult to leave. They do have an outdoor patio that connects across to the river, so avoid that area on the ground floor if you have a runner.
Other Considerations:
The Science Center Staff genuinely is some of the kindest, sweetest people on the planet. They always find a way to make our kids' day. If you need anything, just ask a staff member. They're great about pointing you in the right direction.