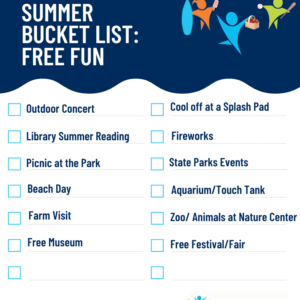 SUMMER IS HERE!
If you, like me, are a family on a budget, worry not! We've got your back with several hundred activities – and they are ALL FREE! They have been organized into 12 different categories.
We Connecticut residents are really lucky: we can go to the beach, visit museums, see fireworks, swim, go to shows- all for FREE! Connecticut libraries have gone slightly nuts (in the best possible way) and are offering world class workshops as part of their summer reading.
Plus, CT State parks have some fabulous events, Splash Pads are popping up everywhere, and Summer Concerts are INCREDIBLE.
Check it out, and stay tuned as we add our CT Summer at the Museum bucket list!
Want a printable version? Click here to print your own.

Image Credit: Town of Glastonbury, town of Essex, Dogfish Head
Is there anything that says "Connecticut summer" than outdoor concerts on the town green? Growing up, I looked forward to dancing along to the music with my friends all year.
As a parent, I now realize just how kid friendly they are – all you have to do is pack a picnic, and kids can dance and sing (and eat!) to their hearts content. It's the perfect place for them to enjoy music and just being kids!
We've rounded up a list of concerts around the state- whether you want to listen to music at Riverfront in Glastonbury,  eat ice cream and watch the band play by Mystic Drawbridge, or soak in the history alongside the music at the Connecticut Historical Society or the Florence Griswold Museum, there really is something for everyone.
Plus- so many of them are FREE!

Image Credit: BubbleMania, Canva, Hartford Stage
Did you know that there are over 500 summer reading events offered by Connecticut Libraries?
Since when has summer reading gotten…cool!?!?!?! Parties…prizes…comedy shows…BMX biking…cooking classes… I mean, the list just goes on and on. We've seen libraries offering JEDI TRAINING. Seriously- where was this when we were kids?
Plus, libraries have tons of fun things to check out- think movie screens, cake pans, crafts– anything and everything you need for fun summer activities!

Summer Days are made for picnicking and there is no shortage of gorgeous CT Spots. We're working on a list, but in the meantime, some of our favorites so far include:

Connecticut has some AMAZING beach destinations- and many of them are FREE!
Some of our other favorites include:
Rocky Neck State Park
Bluff Point State Park
Ferry Landing State Park
Check out our top 10 beaches for families here.

We have SO MANY FARMS in Connecticut. Just a few of our summer favorites:
Many of them have gorgeous views and it's super fun to take a walk and see what's there!


Image Credit: Town of Colchester, Town of New Haven
Connecticut has some AMAZING Splash Pads- and more are being built (Nevers Park!!!) Some of our favorites:

Image Credit: Richmond Library, Canva
Did you know there are over 50 CT Fireworks shows!?!?! It is free to view many town fireworks.
Check out our round up of state wide events- and keep checking back as we continue to update throughout the season!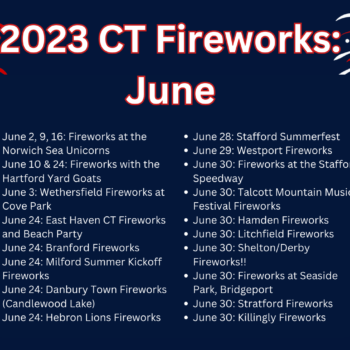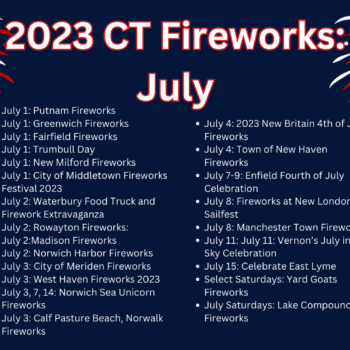 Did you know? Connecticut State Parks "No Child Left Inside" Program is entering its 18th year! DEEP says:
NCLI's new Families in the Parks program expands on the Great Park Pursuit Family Adventure Program by reaching more families and youth, while also extending the season and locations of activities. You and the children in your care can enjoy a wide variety of FREE, fun and educational outdoor recreational opportunities. Enjoy time together and reconnect with the outdoors, nature and each other.
The best news? There are TONS OF EVENTS and if you participate in 10 you could win TWO FREE NIGHTS OF CAMPING!!!
Follow along as we visit events along the state:

10: Head Under the Sea at the Aquarium and Nature Centers:
Is it summer without seeing a few fish? We have a few places with fantastic under the sea exhibits. We're hoping the aquariums are free when the official list comes out, but Meigs Point Nature Center is always free and has some amazing programs!

Photo Credit: Beardsley Zoo
It's not summer without a trip to the Beardsley Zoo- and we are hoping to see the Zoo on the list of Free Museums! Some of our favorite attractions include:
Plus, there are tons of Nature Centers, including free ones! We have some listed here.  

Photo Credit: Vernon Summer Days, Robin Hood's Faire, Vernon Summer Days Again 
12. Check out a Summer Fair, Festival, or Carnival
Summer fairs and carnivals are in season, and there are so many different ones to check out- as a bonus, many offer free admission!
Have a summer fun activity you'd like to add? Comment below or email Kate@Kidtivity.com so we can check it out! 
As always, a lot of energy goes into checking each event and venue. That said, it's always best to confirm with the organizer yourself prior to going.😄