Is there anything more classically New England than Fireworks? (Well, besides baseball, lobster rolls, going to the beach…there are a lot of things that are classically New England!🤣)
Either way, CT Towns like to go ALL OUT. We've rounded up a list of over 35 fireworks events around the state. Check back throughout the summer as more towns release details of their celebrations!
Hartford County:
Game Night Saturdays: Fireworks at the Hartford Yard Goats
June: 3  Wethersfield Fireworks:

 

Arrive at 5pm for social hour, bring your picnic dinner, or buy from one of the food vendors, your choice. Dance to the DJ & visit the face painter, henna artist, rail road, climbing wall! Fireworks will be ready to go at 9:10 pm. 

June 30: Celebrate America! – Talcott Mountain Music Festival

at Simsbury Meadows:

Kick off your summer with one of Connecticut's favorite annual celebrations! Conducted by HSO Music Director Carolyn Kuan, and featuring Connecticut's own Javier Colon, this program will feature your patriotic favorites and more, plus fabulous fireworks following the concert!

July 1, 2, 3, and every Saturday in July: Spectacular Fireworks Shows at Lake Compounce

:

Join us for a boomin' fireworks show at 9pm July 1,2 and 3 and every single Saturday in July.

July 8: Manchester's Annual Dutch Fogarty Independence Day Celebration: Celebrate Manchester's 200th year as a town, listen to some great tunes, and watch the fireworks. Event kicks off at 7.
July 7-9: Enfield Fourth of July Celebration

:

a three-day Fourth of July Celebration at no charge, including music, parade, races, demonstrations, kid's rides and games, with much, much more! 

July 15: Life. Be in it. Extravaganza in Newington: Join us at Mill Pond Park on Saturday, July 15th to celebrate the 41 Annual Life. Be in It. Extravaganza! Enjoy food, games, rides, an adult beer garden, arts & crafts exhibits, and much more! The carnival will be open from 10 a.m. – 9 p.m. Fireworks at 9:30.
Fairfield and Litchfield County:
June 24: Danbury Town Fireworks at Candlewood Lake
June 29: Westport Fireworks: 

Fireworks tickets on sale now! Fireworks take place at Compo Beach.  This is a ticketed event and tickets can be purchased at the Westport Police Department, 50 Jesup Road and at the Parks and Recreation Office, 260 Compo Road South. $50 per vehicle cash or check only.

June 30: Shelton/Derby Fireworks!!  

Join us for the Shelton/Derby Fireworks on Friday, June 30th! Grab yourself a front row seat, your favorite #connecticut snacks, and CT #beer #wine and #liquor and celebrate #IndependenceDay with the spectacular #fireworks display!

June 30: Litchfield Fireworks: 
June 30: Stratford Fireworks: 

Celebrate Stratford fireworks display.

June 30: Fireworks at Seaside Park, Bridgeport: Enjoy fireworks at Seaside Park. 
July 1: Greenwich Fireworks Greenwich, CT Town Fireworks.
July 1: Fairfield Fireworks:

Enjoy fireworks on the beach! 

July 1: New Milford Fireworks
July 1: Trumbull Day: 

Trumbull Day is a fun-filled family event with food, vendors, carnival rides and games, children's entertainment, a main stage featuring local bands and fireworks.

July 2: Norwich Harbor Fireworks: 

Join us for the 2023 Norwich Harbor Fireworks. This year we will be capping of Rose Arts Weekend with a night of celebrating our country's independence.

July 2: Rowayton Fireworks:

The Rowayton Fireworks will light up the sky from Bayley Beach on Sunday, July 2nd, beginning at approximately 9:00pm, and lasting approximately 30 minutes. There is a rain date of Wednesday, July 5th

July 3: Fireworks at Calf Pasture Beach, Norwalk.
August 3: Monroe Bicentennial Celebration: Celebrate 200 years with a parade and fireworks!
Middlesex County and New London County: 
Tolland and Windham County: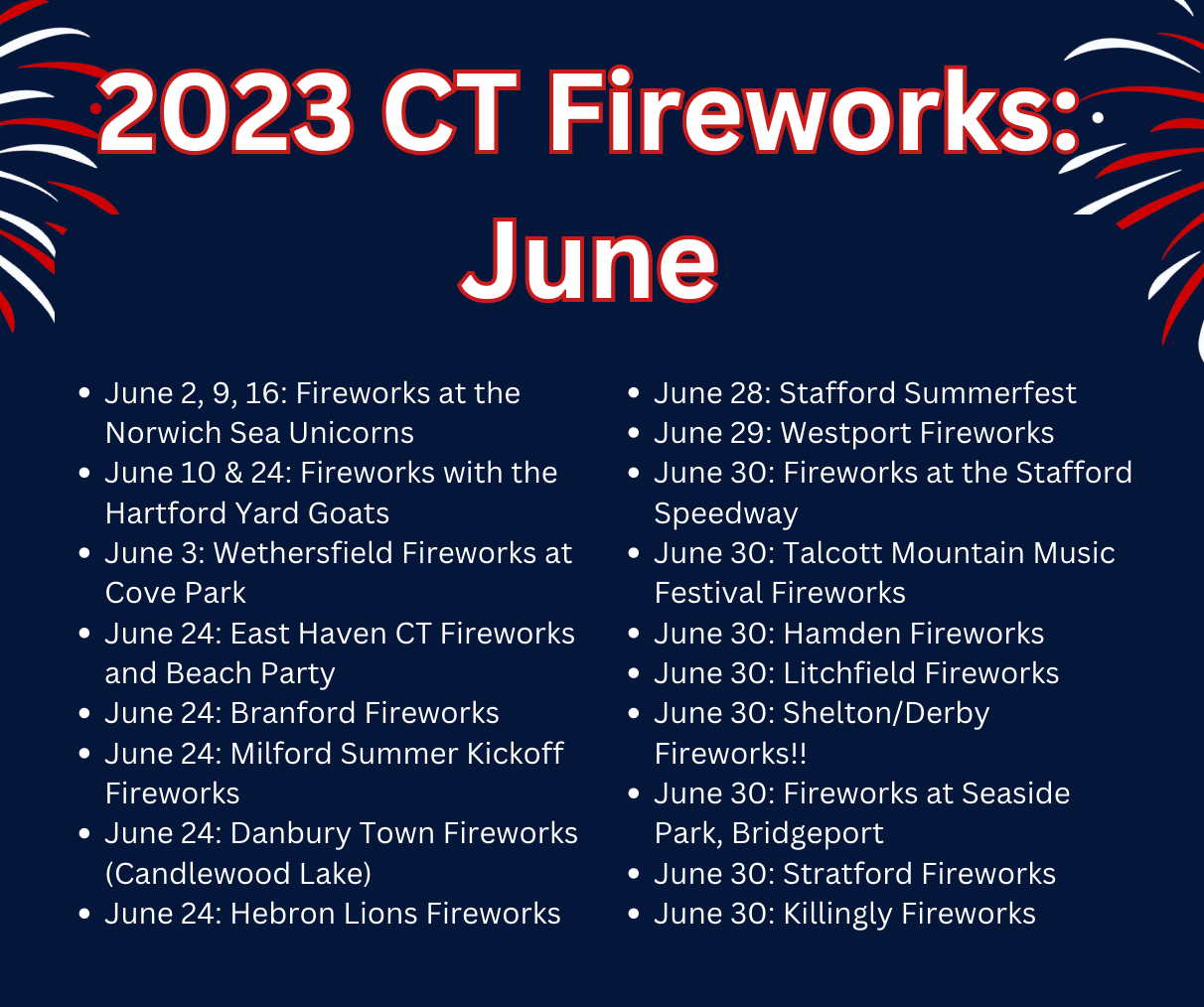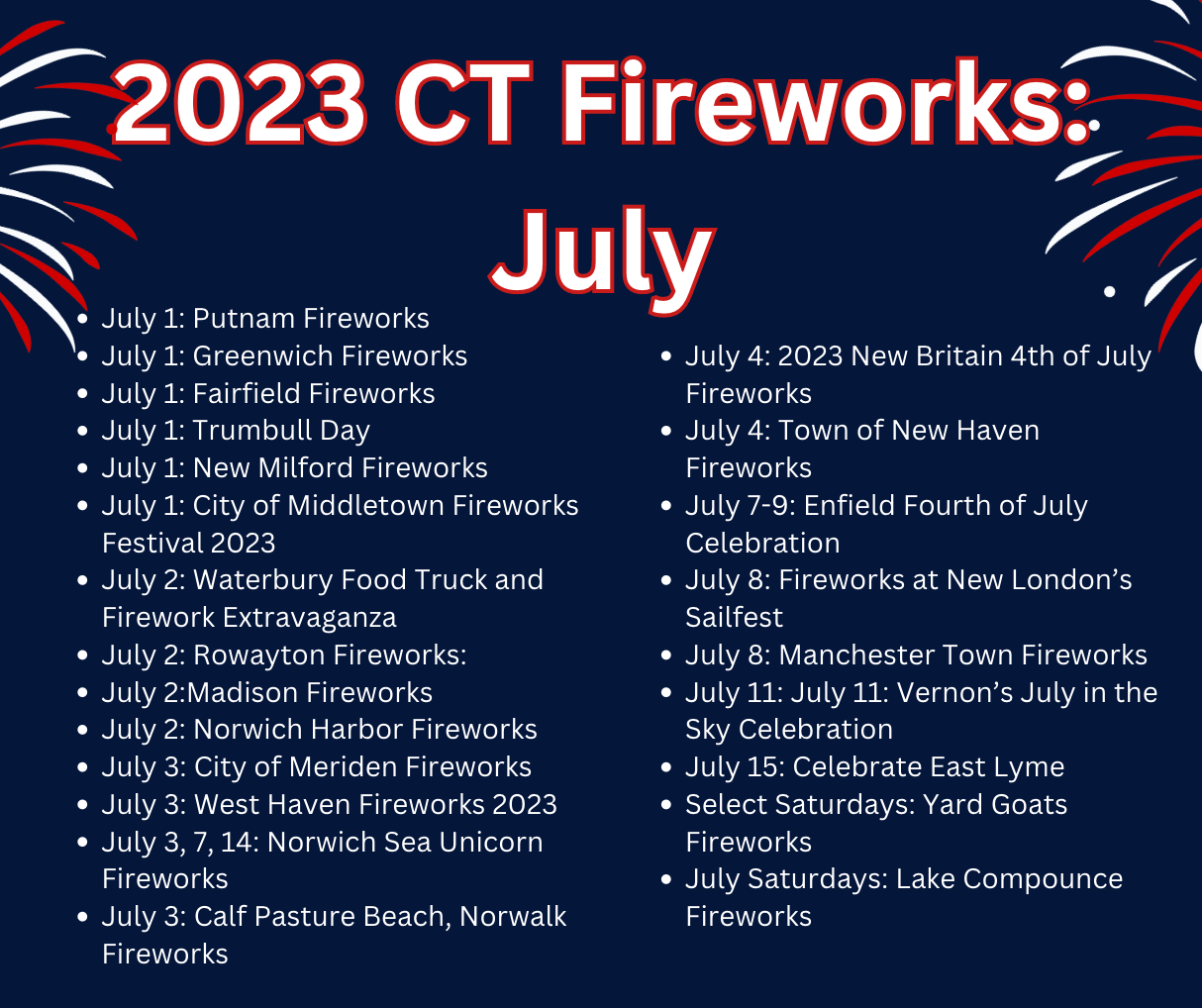 As always, lots of effort goes into finding and fact checking these events. However, I am a sleep deprived human with multiple young children so it's always best to follow upwith the event coordinator and check the link for event updates 🤣
Have an event that you'd like to share? Know of a cool place to find fireworks? Let us know so we can include it in our list!