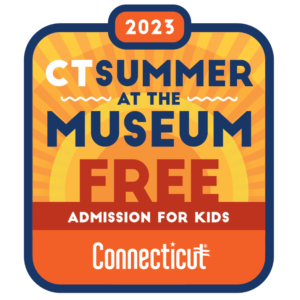 Word on the street is that OUR FAVORITE SUMMER PROGRAM IS BACK!
That's right: FREE MUSEUMS FOR KIDS ARE RETURNING FOR 2023!!!!
According to CT Humanities , "These grants are made available to CT Museums to facilitate free admission for all CT children aged 18 and under and one adult caregiver between July 1, 2023 and September 4, 2023."
When will we know more?
In the next week or so, a list should go public and we'll post it right here! The list should be available on CT Visit and we'll also have a fun Bingo Game Linked here.
Where does this funding come from?
CT Summer at the Museum grant program and other financially accessible summer enrichment opportunities to families and children of all ages are being funded by the American Rescue Plan Act (ARPA).
How do I reserve tickets? They sold out so quickly last year!
Definitely set aside some museum exploring days and book tickets for them ASAP since they do sell out FAST. Typically, each museum has a section of their website dedicated to summer at the museum. We'll have more information once participating museums are announced.
I have more questions about this program. Where can I look?
More information here: https://cthumanities.org/ct-summer-at-the-museum/#:~:text=The%20CT%20Summer%20at%20the%20Museum%20initiative%20considers%2018%2Dyear,2023%20and%20September%204%2C%202023.
This is a breaking story! Check back for more information!