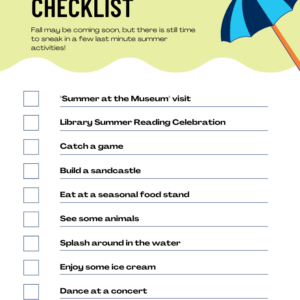 The end of Summer is upon us and we're starting to see the first signs of Fall. Pretty soon, we'll be all about back-to-school, leaf peeping, apple picking, and pumpkin spice everything.
But we still have a couple more weeks of summer, and it's time to make the most of it! Summer at the Museum continues until September 4, our favorite local teams are playing some great end of season games, and it's still warm enough to head out for a swim and sandcastle building.
To make sure we don't have any FOMO from this summer, we've made a checklist of Connecticut family fun activities. Let's finish out the summer strong!
Want to print your own copy? Click here
Want to make your own checklist? Here's a blank copy:

There's still time to get Bingo – or just sneak in one last visit to a FREE museum!
Looking for your own to print at home? Check Here
Looking for your own to make? Template here
What happens when you get BINGO? Fame, Glory, Cool Points- who knows!?!?! Email me at Kate@Kidtivity.com to find out 🤣
As a side note, I'm working on a list of hidden gems at Summer at the Museum. Some of our Favorite Spots that have availability:
Mystic Seaport
New England Air Museum
Florence Griswold Museum
New England Carousel Museum
Trolley Museum

Summer Reading is wrapping up, and there are several great end of season parties!



Summer is peak outdoor dining season, and we have some great spots for family foodies. I'm hoping to report on a bunch of spots this summer. For Science, of course 🤪

Photo Credit Above: Beardsley Zoo & Mystic Aquarium
Anyway, we have SO MANY places to see some sweet animals before back to school. And most of them are FREE with Summer at the Museum, so definitely take advantage!
Some of our favorite animal stops:

Photo Credit: Brownstone/West Hartford Town
Pool, splash pad, ocean, swimming hole- whatever strikes your fancy! One last splash around in whatever local haunt is your favorite.
Some of our favs for families:
West Hartford Pools and Splash Pads

Photo Credit: Kloter Farms, Arethusa Farms
I have an ice cream addiction this summer. We have eaten it a ridiculous amount of times this year. I regret nothing.
In all seriousness, Connecticut is the Ice Cream Capitol of the United States. We just are. Our ice cream is homemade, and creamy, and incredible. We have gelato, and sorbet, and custard, and soft serve and literally everything in between.
Anyway, we've been working on an ice cream trail, and you should definitely eat at more ice cream before summer comes to an end.
Then you should stay tuned for fall ice cream flavors, because that is a thing.
(Maybe I should ask the Connecticut Dairy Association to sponsor this blog 😂 They don't, but a girl can dream, right?)

Many towns still have fantastic concerts through the month of August, and it's definitely worth packing a picnic and catching some live music before the season ends.
Just a few:

We have so many fun parks and playgrounds that are great year round- but summer is an extra special time to visit.
As always, lots of time and energy went into making this checklist. However, sleep deprivation is real and things change all the time, so better safe than sorry- call ahead and check in with the venue before heading out.
What other end of summer essentials should we add? Let me know! Comment below or email kate@kidtivity.com