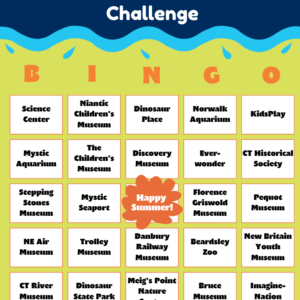 IT IS HERE! IT'S HERE! IT'S FINALLY HERE!!!
Does anyone else feel like Summer at the Museum morning is like Christmas morning? It's just the BEST PROGRAM EVER.
The CT Summer at the Museum Program is made possible by CT Humanities.
According to CT Humanities , "Grants are made available to CT Museums to facilitate free admission for all CT children aged 18 and under and one adult caregiver between July 1, 2023 and September 4, 2023."
The full list is on CT Visit. We'll add museums by category below as soon as we get everything checked.
Each Museum has different guidelines to register. It may also take a couple days for museums to have tickets and information ready.
I also made up a Bingo game, because I like to pretend there is a challenge to everything we do- even if it is just a challenge I made up myself 🤪
Looking for your own to print at home? Check Here
Looking for your own to make? Template here
What happens when you get BINGO? Fame, Glory, Cool Points- who knows!?!?! Email me at Kate@Kidtivity.com to find out 🤣
PS- Looking for museums that are free all year round? Check out our round up here.