Marvel fans, assemble! Marvel Universe Live with Your Favorite Super Heroes is an epic show unlike anything you've seen before. Watch Spider-Man, The Avengers – Iron Man, Hulk, Black Widow, and more, and sinister villains come to life in a live, action-packed arena performance. You'll definitely feel the energy with cutting-edge special effects, pyrotechnics, aerial stunts, martial arts, motorcycles and more.
Kidtivity.com was privileged and super excited to attend a media preview in New York recently — the "Super Heroes Academy!"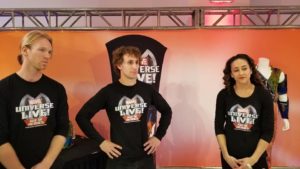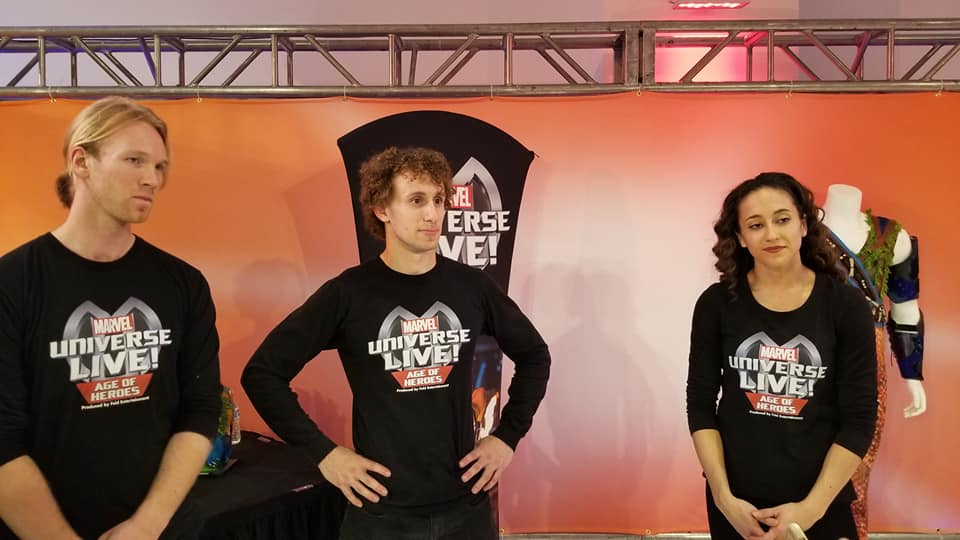 "Walking in you already get that this event is going to be fun since we were introduced immediately to the first visual experience of Marvel Universe Live! Featuring The Avengers including Captain America, Black Widow, Black Panther, Spiderman, Iron Man, Thor, and the Guardians of the Galaxy the lone Rayder Starlord, the Great Tree creature brought to life with stilts Groot, Gamora the cybernetically enhanced Warrior, Rocket the augmented Raccoon, and Drax the Destroyer!
Sprawled out onto a table a sample of props, costumes of within the Marvel Universe. Immediately for those who know, from Guardians of the Galaxy, Starlord's iconic head gear and blasters Thor's hammer Mjolnir, but also included were costumes of a race of ancient beings belonging to a different Marvel story line.
We were treated to a one-in-a-lifetime, very cool opportunity with interactive exhibits allowing us to try on the costumes, test our worthiness lifting Thor's hammer and combat lessons.
Next to that was a large stage banner with foam mats displaying each of the famed Marvel Superheroes. Three agile and highly skilled combat artists all playing various Marvel characters, demonstrated and instructed various choreograph techniques during the live performance. Each performer brought a sample performance of the type of fights and stunts YOU will see at the LIVE PERFORMANCE!! Justin as Dr. Strange, Katelyn playing Black Widow and Gamora, Isaac Peter Quill a.k.a. Starlord who were incredibly kind and open to questions so I performed a sweet take down move on Isaac and practiced using Rattan's, foamed versions of martial arts bamboo sticks with Justin. After which I asked them a few questions about the show and the process to get there. Surprisingly each with different backgrounds that got them be screened for their access into the show.
All of us were personally introduced to Jessica Ferris, casting director and team leader for the show. Identifying, honing, and molding talent that would fit into the show. The screening process, surprisingly, was deeper than I thought — her team is handed down extremely strict guidelines on what to look for in their performers.  Makes sense based on the quality of all the Feld Entertainment owned tours over the years: Ringling Bros. Barnum & Bailey Circus, Disney On Ice, Disney Live, and now Sesame Street Live and Marvel Live join this live production powerhouse of special family experiences.
In addition to character performance, of course, both physicality, size, height, weight, tone are evaluated but if a performer was well liked but lacked all the skills needed, additional training is provided to get the perfect "product." Given the intense scheduling, on the road time, tasking physical demands, and safety procedures the main trait they looked for was their character and moral fiber.  "Support, teamwork, unity, and family" were the words used by Ms. Ferris. "If anyone wasn't there to make their partner shine, they were not a fit for this show and are asked to leave."
The show coming to Bridgeport Connecticut in early March is sure to be truly exciting!         ~ Iain Magowan, Our Ambassador  ~ view posts at https://www.facebook.com/iain.magown
Take a look yourself at videos!   Go Behind the Scenes of Marvel Universe LIVE! Age of Heroes
SHOW DATES & TIMES at Webster Bank Arena:
Thursday, March 1 – 7:00pm
Friday, March 2 – 7:00pm
Saturday, March 3 – 11am
Saturday, March 3 – 3:00pm
Saturday, March 3 – 7:00pm
Sunday, March 4 – 12:00pm
Sunday, March 4 – 4:00pm
Get your tickets now!