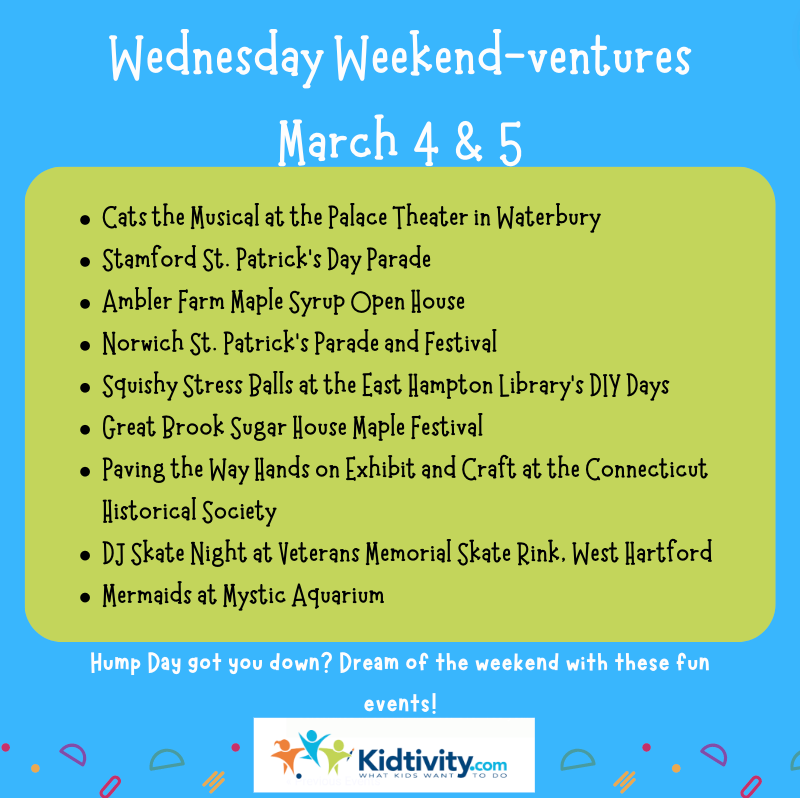 After a snowy start to the week, we're dreaming of our next weekend adventure. There's lots of fun to be had around the state, and we are so excited to get out and about. Our events calendar has tons of events, and here are some links to our favorites:
Cats the Musical at the Palace Theater in Waterbury : Cats, the record-breaking musical spectacular by Andrew Lloyd Webber that has captivated audiences in over 30 countries and 15 languages, is now on tour across North America! It's visiting the Palace Theater and looks INCREDIBLE!
Stamford St. Patrick's Day Parade: The Stamford St. Patrick's Day Parade is run by the all-volunteer members of the Irish-American Cultural Society of Stamford (IACSOS). Get into the St. Patrick's spirit and welcome March by cheering on the parade.
Ambler Farm Maple Syrup Open House: It's Maple Syrup Season and there what better way to celebrate than watching a real Sugar House in action? Come experience a New England tradition: turning sap into syrup! Kids and families will have an opportunity to tap a tree, take the maple syrup taste test, learn about Indigenous Peoples, colonial, and modern methods of making syrup and, of course, taste Ambler Farm's very own maple syrup over vanilla ice cream. Bottles of Ambler Farm Maple Syrup and Merchandise will be available for sale.
Norwich St. Patrick's Parade and Festival: Get into the St. Patrick's spirit and welcome March by heading to Norwich for the parade and festival- this green splattered event is sure to be a hit with all ages!
Squishy Stress Balls at the East Hampton Library's DIY Days: Bring the whole family for a FREE hands on craft at the East Hampton Public Library.
Great Brook Sugar House Maple Festival: What better way to celebrate maple sugar season than by attending a maple festival? Head over to Sullivan Farm in New Milford for a glimpse into the maple sugaring process.
Paving the Way Hands on Exhibit and Craft at the Connecticut Historical Society Celebrate Women's History Month at the CHS! Families will play their way through our exhibit The Bicycle Game, learn how the bicycle craze of the 1890s paved the way for women's empowerment, and complete a related craft. This program is FREE and great for children ages 5 and up.
DJ Skate Night at Veterans Memorial Skate Rink, West Hartford: Sing along and skate at the Veteran's Memorial Skating Rink in West Hartford.
Mermaids at Mystic Aquarium : Mermaids are coming to Mystic Aquarium! Experience an aquatic adventure like never before when you come face-to-face with real mermaids. The mermaids will dazzle with their interactive underwater performances, inspiring imagination in guests of all ages!
Do you have a fun event you'd like to share? Email Kate@Kidtivity.com and you could be featured here!