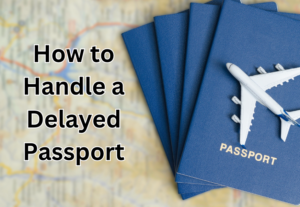 Got international travel plans coming? Make sure your passport is up to date! Most countries require your passport to be valid (read: not going to expire) for 90 days prior to your entry into the country.
But, with a huge uptick in people traveling this summer and passport processing delays,  this is easier said than done.
Lucky for you, I recently learned the secret to getting your delayed passport processed quickly (and relatively painlessly) if you are two weeks out from travel.
When should I apply for a passport?
Obviously, the ideal solution is to apply for a passport well in advance of your international travel- the US Passport Service recommends at least 13 weeks for routine service.
Help! My trip is two weeks away and my passport isn't here yet- what do I do?
Do not worry! Here in Connecticut, we have some options for a delayed passport. We found it was difficult to go through the US Passport Office. Instead, contact your local Senator. Both CT Senators have staff members dedicated to helping citizens through the  passport process:
Call Senator Blumenthal's Hartford office at 860-258-6940. A Staff member will get some information, have you fill out a privacy release form, and help you get what you need.
Complete this form and call the Hartford office at (860) 549-8463.
Does this really work?
It did for us! No hold times, just an easy conversation with a super friendly staff member and we were on our way.
The staff members we spoke to stressed that it is much, much easier for them to work with the US Passport Service than it is for citizens to. It's something they do every day!
So there you have it- do your best to get your passport out in time, but if you find yourself in a bind: don't hesitate to reach out to your local Senator! It's what they are there for.
As always- this reflects my experience. Your results may vary. A great deal of care is taken in researching, but it is always best to do your own research too!