Disney's DCappella First Tour Comes to CT
February 20, 2019 @ 7:30 pm

-

9:30 pm

$55 – $350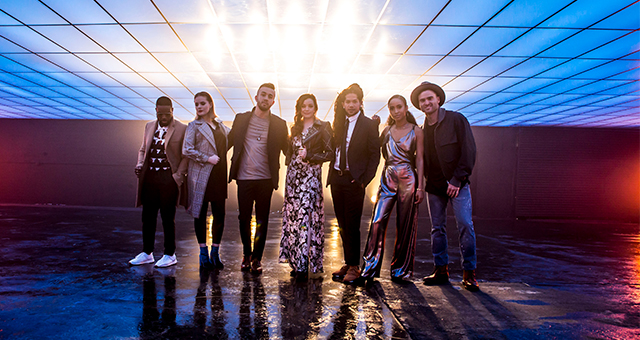 Following the release of Disney's DCappella group's first album their first ever North American tour will start January 22, 2019 and come to CT at the Toyota in Wallingford. The Disney Music Groups tour features 7 world class vocalists created by Disney and contemporary a cappella legend Deke Sharon (Pitch Perfect, The Sing Off and much more), the tour will appeal to fans of both Disney and a cappella with their modern a cappella versions of Disney hits.
DCappella's co-creator, music director, arranger, and producer is Deke Sharon ("the father of contemporary a cappella," according to Entertainment Weekly), whose credits include the Pitch Perfect franchise and Straight No Chaser. DCappella's debut album will include an eclectic mix of tracks, breathing new life into timeless songs such as "You'll Be in My Heart" and "A Whole New World" to modern day classics "Let It Go/Do You
Want to Build a Snowman?" and "Remember Me." Several album tracks have been previously released to wide fan praise; "Immortals," "How Far I'll Go," "Disney Medley," and "Glory Days," with a combined 5.4 million views to date and over 3.4 million global streams.

Known for their reimagined classics from the Disney songbook and beyond, the seven dynamic voices that make up DCappella, Sojourner Brown [alto], Orlando Dixon [baritone/"The Voice"], Antonio Fernandez [vocal percussion], Morgan Keene [soprano/"Newsies"], Shelley Regner [mezzo/"Pitch
Perfect" films], Joe Santoni [bass], and RJ Woessner [tenor], represent a first for Disney, who launched the brand's flagship a cappella experience last Spring with a TV debut on American Idol during "Disney Night," where the group performed classics from The Little Mermaid, Beauty and the
Beast, The Lion King, and Aladdin. That same week, they graced one of Hollywood's most hallowed stages to open Disney's Beauty and the Beast Live in Concert at the Hollywood Bowl. Most recently, they recorded four songs on the digital version of the Incredibles 2 original motion picture soundtrack.
DCappella's self-titled debut album is available through all digital and physical retailers.
DCAPPELLA Track Listing:
1. "Tune Up"
2. "The World Es Mi Familia" – Coco
3. "Friend Like Me" – Aladdin
4. "How Far I'll Go" – Moana
5. "Let It Go/Do You Want to Build a Snowman?" – Frozen
6. "I Wanna Be Like You (The Monkey Song)" – The Jungle Book
7. "You'll Be in My Heart" – Tarzan
8. "When She Loved Me" – Toy Story 2
9. "Trashin' the Camp" – Tarzan
10. "Part of Your World/A Whole New World" – The Little Mermaid/Aladdin
11. "Step in Time" – Mary Poppins
12. "Immortals" – Big Hero 6
13. "Remember Me" – Coco
Ages 2 and older require a ticket.
Related Events