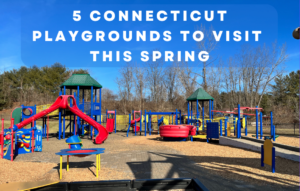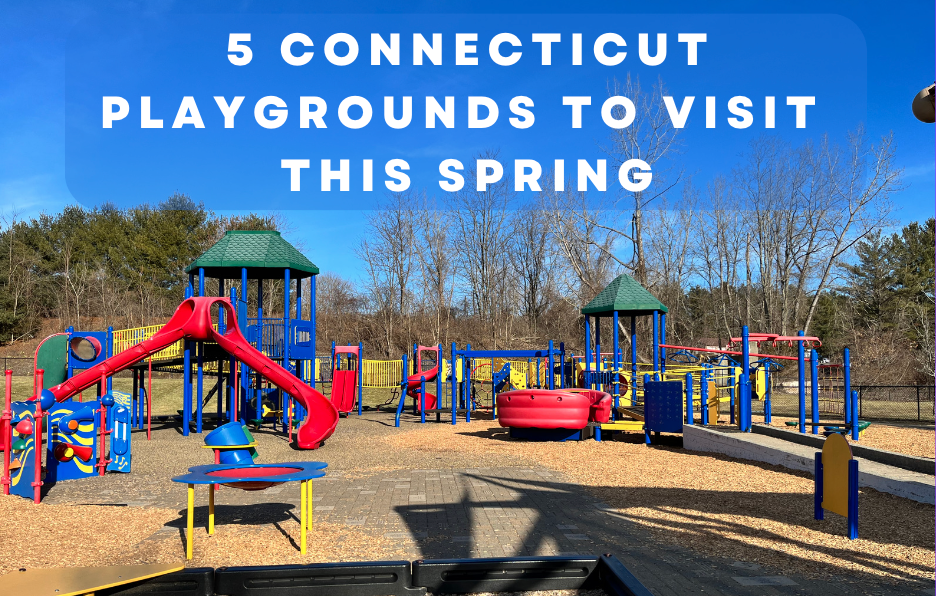 Chuckles, (Connecticut's official groundhog) has predicted an early spring, and you know what that means: It's PLAYGROUND SEASON!
Here are 5 Connecticut Playgrounds where you can stomp in the mud, smell the flowers, and wash away those winter wiggles.
1. Buckingham Park, Avon
Avon's Buckingham Park was a great spot for our kid testers to exercise both their bodies and minds! Our kid testers jumped, crawled, climbed, slid, and swung their way through the park's many options. Half the park is fully accessible, and even includes learning centers for kids to learn about braille and sign language.
Our kid testers especially got a kick out of all the different slides- they had a small slide for tots, a couple medium sized ones and two "big fast ones!" The options for climbing are excellent as well- a rock wall, several ramps, balance beams, twisted bars- the options were endless for our little monkeys.
Surrounding the park are well marked hiking trails for even more adventure. Most of them are paved, which means they'd be great for strollers, ride ons, balance bikes, roller skating- you name it! Better yet, the park is right on the parking lot, which means easy access if you have kid who tends to run at the parking lot.
  2.  Mill Pond Park, Newington
Newington's Mill Pond Park has it all: Playgrounds for everyone from babies to big kids of all abilities. Our little kids loved the sandbox and plentiful swings, and bigger kids thought checker tables were so cool. They even had a swing for parents and babies to enjoy together- one of our kid testers enjoyed her very first swing ride! 
Springtime brings an outstanding walk around the pond culminating in a gorgeous waterfall filled with rushing water. It's also very close to the library, so it's easy to stop in for a story and some indoor play if the spring temperatures haven't warmed up yet.
The playground is close to the parking lot, which makes it easy to load and unload groups of kids. It's fully accessible (for both strollers and wheelchairs), which is great for children and families  of all ages and abilities.
3. Jonathan's Dream, West Hartford
Jonathan's Dream is the first ever Boundless Playground. This unique play area is designed for children of all ages and abilities to come together in the spirit of adventure. Our kid testers had a blast making music in the music area, climbing the big towers (available via step and ramp), swinging and sliding. The best part, however, was the giant plane in the middle that they spent about an hour playing with.
The whole area is fenced in, which meant that I got to relax and watch them play. We also enjoyed lunch in the pavilion. There's a rumor that they offer a wide range of activities in the summer, but even without the activities, there is so much for everyone to do. 
A great spot if you have a runner or multiple kids to keep track of!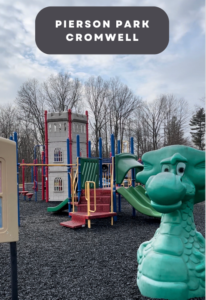 4. Pierson Park, Cromwell
Step into a medieval fantasy world with dragons, alligators, and a castle to climb all over. Sound like fun? That's Pierson Park in Cromwell. This playground feels like a storybook come to life. Our kid testers immediately made friends with the giant dragon that greets you on your way in. They also adored the sandbox, swings, and abundance of things to climb all over. 
This is a playground that suits all ages. There were things for older kids- like a large climbing wall and some bug slides- and also a play area for much younger kids. Pierson Park also features a small paved area that's perfect for balance bikes, roller skates, or just walking around. 
Parents of active kids will appreciate the proximity of the playground to the parking lot, which is set back from the road- helpful for if you have a runner.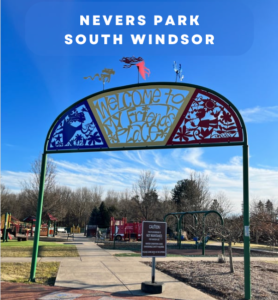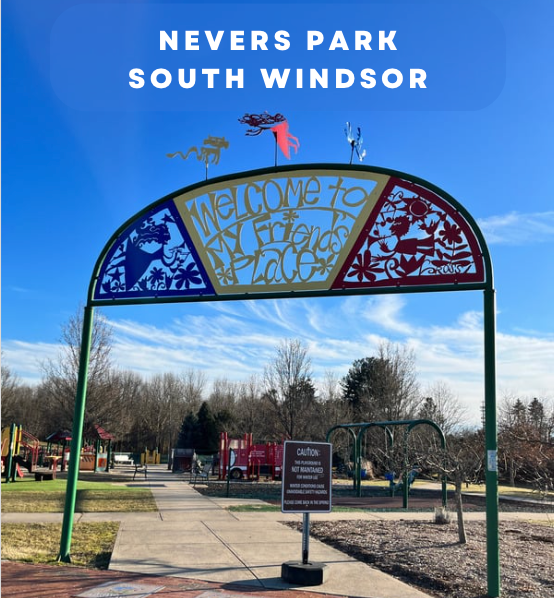 5. Nevers Park, South Windsor
South Windsor's Nevers Park is another Boundless Playground that features something for everyone- sports facilities, accessible areas for big and little kids, a skate park, exercise trail, miles of hiking trails and even a dog park. 
The toddler play area was a hit with the large firetruck play structure, music center, and smaller playground- the real star of the show was the huge sandbox, complete with toys and a sand table. On the older kid section, there were plenty of swings, a climbing wall, and two giant slides. Teens will appreciate the skate park, and parents will appreciate the ability to supervise both little and older kids at once. The hiking trails take you past two ponds (complete with wildlife ranging from birds to beavers), a gorgeous barn, and some fun climbing equipment. 
The playground is removed from the road, but it is not fenced in. It's also worth noting that it can be hard to supervise young kids if you are in the older kid area. Definitely a must stop for sand lovers or for kids of multiple ages (especially if you bring a spare set of hands!)
Where are your favorite spots in Connecticut? We want to know! Email kate@kidtivity.com to share your favorites with other families.