Hogwarts Celebration of Science and Sorcery
February 1, 2020 @ 10:00 am

-

February 2, 2020 @ 4:00 pm

General Admission + Fee for Special Activities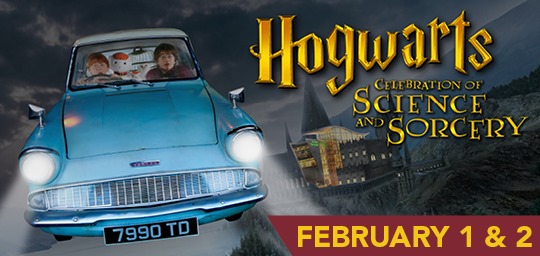 The Wizarding World created by the popular book and movie series is about to collide with the hands-on fun of the Connecticut Science Center for one magical weekend. At Hogwarts Celebration of Science and Sorcery you can brew your own potions, learn how to properly fight in Dumbledore's Army, take a scavenger hunt with Luna Lovegood, or get advice from Professor Dumbledore, and of course, visit the Sorting Hat to find out which house you belong to. All this and so much more comes to life at the Connecticut Science Centers Hogwarts Celebration of Science and Sorcery – you won't want to miss this!
Most activities are included in the cost of General Admission or a Connecticut Science Center Membership. Add-on experiences are also available for an extra fee.
ACTIVITIES: 10AM-4PM Science Center opens at 9AM
Divinations Class with Professor Trelawney
Dumbledore's Army Meeting in the Room of Requirement
Quidditch Try-Outs
Sorting Hat
Scavenger Hunt with Luna Lovegood
Special Appearances by Professor Dumbledore, Hermione, Professor Sprout and More!
LIVE Science Demonstrations
Magic Photo Booth
Potion's Class

*

Professor Snape's Potions Demonstration
Professor Sprout's Butterfly Greenhouse

*

Fantastic Beasts of the Muggle World

*

Harry Potter and the Sorcerer's Stone

*

Most activities will be included in the Cost of General Admission or Connecticut Science Center Membership. *Separate Ticket/Registration required.
ADD-ON ACTIVITIES:
Fantastic Beasts of the Muggle World Animal Show 10AM / 11AM / 1PM / 2PM Price: $5 each showing
Join our friends from Wildlife Encounters for a magical stage show where they will introduce the young wizards of Hogwarts to some Fantastic Beasts that can be found here in the Muggle World. Brace yourself for an up-close and personal experience with some fantastically amazing creatures in this one-of-a-kind LIVE animal stage show.
Harry Potter and The Sorcerer's Stone 3:00PM Price: $5
Adaptation of the first of J.K. Rowling's popular children's novels about Harry Potter, a boy who learns on his eleventh birthday that he is the orphaned son of two powerful wizards and possesses unique magical powers of his own. He is summoned from his life as an unwanted child to become a student at Hogwarts, an English boarding school for wizards. There, he meets several friends who become his closest allies and help him discover the truth about his parents' mysterious deaths.
Potions Class 9:30AM / 10:00AM / 10:30AM / 11:00AM / 11:30AM / 1:00PM / 1:30PM / 2:00PM / 2:30PM / 3:00PM / 3:30PM / 4:00PM  Price: $5
At Hogwarts School of Witchcraft and Wizardry, Potions is a required subject for all students, from first year to fifth year. Come ready to get hands-on and mix-up some magic. Join our talented Potions Master as she teaches you the valuable secrets to unlock the skills of the Half-Blood Prince. "As there is little foolish wand-waving here, many of you will hardly believe this is magic."
Professor Sprout's Butterfly Greenhouse Price: $5
Join Professor Sprout, the distinguished Head of the Hogwarts' Herbology department, as she teaches you about some of the unique plants that can be found in her Butterfly Greenhouse. Many young wizards, like yourself, have learned all about Mandrakes, Gillyweed, and other magical plants from her, and now you too can explore the magic of her greenhouse here in the muggle world.
Related Events