FREE 3 1/2 Weeks Summer Arts Camp for Kids Ages 6-17 Registration fee only $15
July 6, 2021 @ 12:00 am

-

July 30, 2021 @ 1:00 am

$15.00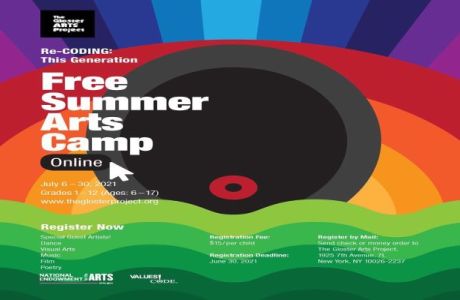 Participants need to commit to the entire 5-day, 10am-3pm (CST), weekly online schedule and will need a computer tablet or a laptop to access the classes. Workshops are offered FREE, but there is a $15 per child registration fee. A limited number of spaces available for families unable to pay $15. Spaces limited.
Classes begin next week and include Music, Visual Art, Film, Dance and Poetry. These art making workshops are supplemented with the Values Code, a set of principles that help children develop positive character traits. Register today at https://theglosterproject.org/register/register-now/
Contact: Margaret Porter Troupe, Executive Director, mptroupe@theglosterproject.org
WORKSHOP DESCRIPTIONS
DANCE
Workshops begin with body conditioning towards good physical and mental health, followed by legacy moves that teach American history through the music and dances of African-Americans. Movement combinations inspired by the students, faculty and staff, and the camp theme bring the camp experience to a oneness that strengthens the camp community experience.
FILM
The film workshops are designed to teach the basics of storytelling through the lens of a camera. Students learn how to capture moments using camera angles, writing scripts, and editing their footage to create their own cohesive short films."
MUSIC
Our music class focuses on music production and will give kids a chance to create their own backing tracks for poetry, spoken word, singing or dancing, using apps compatible with the Kindle Fire tablet to demonstrate how to make backing tracks for hip-hop, soul music and video games. Younger kids (6-8 year olds) will learn to sing new songs and to accompany the songs with percussion instruments.
POETRY
Have you ever thought about what makes you and your community unique and special? Did you know you can write poems to express that? This summer's poetry workshops are designed to show you how to do that and more. You can share what you know, and use your imagination, thoughts, and feelings to make art with words!
VISUAL ART
Visual art classes will be a mix of drawing, painting and collage projects aimed at improving skills and opening doors to creative thinking. We will learn to make books and to develop patterns and expressive use of symbols: from hieroglyphics to 'emojis,' animation, facial features and even stick figures will all be part of the mix.
SPECIAL GUESTS – VISITING ARTISTS
• Princeton University faculty members Eve Aschheim (visual artist) and Tom Hare, specialist in ancient languages, especially Egyptian hieroglyphics.
• Virtual Reality pioneer, Jaron Lanier, is a computer scientist and philosopher, who made one of the first video art games. He has also created Virtual Reality applications for medicine, design, and numerous other fields.
• Danny Glover, internationally renowned actor and human rights activist.
• Quincy Troupe, is an award winning poet and writer, biographer (Miles: The Autobiography of Miles Davis with Quincy Troupe, Pursuit of Happyness) and professor emeritus University of California, San Diego.
The Gloster Arts Project (aka The Gloster Project) is a 501c3 nonprofit. We do not discriminate based on race, ethnicity, religious belief or sexual orientation. Our programs are made possible in part by a grant from the National Endowment of the Arts, and support from the Peter N. G. Schwartz Foundation, the Scone Foundation, SippiCulture, other private foundations and contributions from individual donors. Mailing address: The Gloster Arts Project, 1925 7th Ave 7L New York NY 10026-2237
The Gloster Project, 1406 Geo F West Sr Blvd, Natchez, MS 39121.
URLs:
Tickets: https://go.evvnt.com/814286-2?pid=4489
Booking: https://go.evvnt.com/814286-3?pid=4489
Related Events