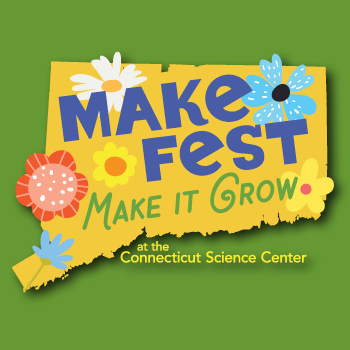 The Connecticut Science Center is excited to welcome local gardeners, farmers, makers, and artisans to highlight the importance of growing healthy, smart, green, and local through engaging on-site demonstrations, displays, and activities, all centered around Connecticut gardening and agriculture. You can even participate in some hands-on family gardening activities on our Rooftop Garden and peruse our Plaza Plant Sale, where you will find all kinds of new plants and vegetables to make your gardens shine.
FAMILY ACTIVITIES:
Featured local makers and artisans
Family gardening activities
Plant & Flower Sale
Build a Terrarium
Seed Ball Making
Gizmo & Therapy Animals
And more!
PARTICIPATING VENDORS:
CT Master Gardener Association
Petit Family Foundation
Getaway Gardens
Keney Park Sustainability Project
CT Dept of Children & Families
Hartford Park Street Library
CT Dept of Public Health
Toivo
And more!
PLAZA PLANT SALE:
Open to the public! Our huge plant sale will feature various native and sustainable plants at very affordable prices. Explore our beautiful gardens on our plaza for inspiration and receive expert advice from some Connecticut Master Gardeners who will be on hand to help and answer questions. A variety of plants will be available to take home so you can start a new garden or build up your existing one. Sale includes but is not limited to:
Locally grown vegetables
Grasses
Butterfly and pollinator plants
Flowers
Ground covers