January 2017
School's out? Looking for something to do with your kids? EverWonder Children's Museum will be open on Monday, January 16th. We will be making mixed media winter paintings in the classroom from 10:00 am to 5:00 pm.
Find out more »
July 2017
EverWonder Children's Museum is proud for the return of our Young Innovators Weekly Sessions Every Morning! Our programs are geared for children ages 5 to 11. Programming will be divided into two age categories: Young Innovators: ages 5-7 and Junior Innovators: ages 8-11. Summer STEM Programs will run for eight weeks on Tuesdays to Fridays from 8:00 am to 12:00 pm, starting on Wednesday, July 5th. Each week will focus on a different STEM (Science, Technology, Engineering, and Math) theme.…
Find out more »
February 2020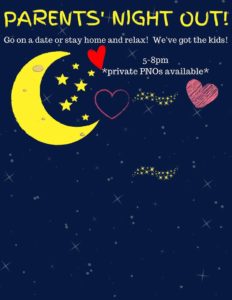 Have a romantic Valentine's Dinner without the kids! Drop your kids off for an evening of fun. Science demo, Valentine's-themed craft, open museum time, and dinner! Pre-registration required. Limited spots available. Ages 3 and up! Register Here: http://www.everwondermuseum.org/parents-night-out
Find out more »
POST YOUR EVENT ON OUR CALENDAR!
There is an advertising fee of $30 for public events that have admission. Free community activities and charitable fundraisers are on us!
Please purchase the listing via PayPal before proceeding.

THANK YOU FOR TRUSTING US TO
PROMOTE YOUR EVENT!
Questions:  advertising@kidtivity.com or call 860-378-7583