Holiday season may be over but fret not! Winter fun is still in the (chilly) air!!! So do not miss out on the fun!  Here is a roundup of all the activities for the weekend in CT:
Friday, Jan 10 (6:30 PM-8 PM), Family Fun Night (Manchester, CT)
Take part in first Family Fun Night of the season – Line Dance Party!  Do Chicken Dance, Hokey Pokey, Baby Shark, Electric Slide, Cha Cha Slide, Macarena, Cupid Shuffle, Cotton-Eyed Joe, Freeze Dance Hand Jive, YMCA, Alley Cat, The Nutbush, Watch Me, The Wobble, The Git Up, Hands Up, The Twist, Hot Hot Hot!
Family Fun Nights are based on the idea that, when it comes to creating connections, "fun comes first." These events provide families a positive, no cost opportunity for connection, recreation and fond memories to last a lifetime.
Family Fun Nights are aimed at providing families an opportunity to connect with their children and each other around creative, play-based, and/or educational opportunities and activities. Families in attendance have children in early childhood (under age 10), but, families with older children and older siblings also are invited to attend. All events are free and open to the public.
More info here
Friday Jan 10 ( 6:45 PM- 9:00 PM): Moonlight Hike (South Windsor, CT)
Join South Windsor Walk & Wheel Ways members for a Moonlight Walk through Nevers Park on Friday, January 10. Meet at 6:45 PM at the Rotary Pavilion (55 Chief Ryan Way) for a cup of hot chocolate while staying warm around the fire pit. Then embark on a 1.5 mile walk through Nevers Park. The walk begins at 7:00 PM. If there is snow, cross-country skiing and snowshoeing are welcomed. Please bring a flashlight, family and friends! Check the cancelation hotline (860-648-6349) if the weather is questionable.
More info here
Friday Jan 10, 7 PM- 8:45 PM: DJ Skate Nights (Veteran Memorial Skating Rink, West Hartford, CT)
Go Ice skating for all ages at DJ Skate Nights with the hottest tunes playing!  Veterans Memorial Skating Rink is a friendly, clean, safe, and comfortable environment for everyone and currently offers the most public skating sessions in the area.
Rental skates available at an additional charge of $4.00
More info here
Fri, Jan 10, Sat Jan 11,  (6 PM-9 PM) (Recurring event): Northern Lights (Mystic, CT)
This Winter, Mystic Aquarium lights up during Northern Light! A sea of lights leads the way through a mesmerizing journey along the Aquarium's outdoor pathways. See Arctic animals in a whole new light – quite literally – as you stroll to theatrical music in search of hand-crafted lanterns that bring Arctic animals to life!
Snap selfies and meet the Snow Sisters every Thursday, Father Christmas on Fridays and Petey the Penguin each Saturday. Pulling inspiration from the most spectacular natural light display there is – the aurora borealis – Northern Lights is sure to be just as magical and inspiring.
Tickets now on sale!
More info here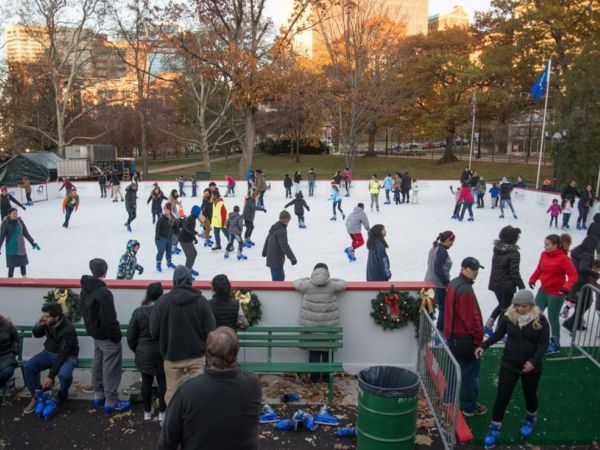 Winterfest Hartford (Bushnell Park, Hartford)
Winterfest Hartford returns to Bushnell Park for its 10th year of free ice skating, free skate rentals, free learn to skate classes and more.
The rink is open daily from 11 am – 8 pm, through January 20, 2020.
The rink may be closed for inclement weather; cancellations will be posted on social media and on winterfesthartford.com. The rink will be closed when there is a parking ban in effect for the city.
More Info here
Fridays, Jan 10-Aug 14, 9:30 AM-11 AM: Playful Learners Playgroup at Imagine Nation (Bristol, CT)
Families with children ages 36 months and under are invited to the weekly Playful Learners Playgroup at Imagine Nation!
Participants receive half-price admission and may enjoy access to all museum studios.
Playful Learners Playgroup begins with gross motor free play in Imagine Nation's Kinetic Studio from 9:30-10:30 am. An age-appropriate staff-facilitated workshop is held at 10:30 am
Admission for Playful Learners Playgroup is $5.00 per person, Imagine Nation Members and children under one are FREE!
Check www.imaginenation.org/calendar for the full Playful Learners schedule
Saturday, Jan 11, 10 AM-11 AM : Kids Craft Saturdays  (Ellington, CT)
Join Ellington Agway in making tissue-paper stained glass masterpieces with snowflakes. This craft includes cutting or carefully tearing paper, placing pieces of tissue paper, and some waiting time. All ages are welcome, but please be ready to help out if you have a very little one who wants to participate 🙂 There  will also have some winter-themed coloring pages for anyone who wants to color.
This event is free, but registration is required to ensure enough materials. Please register via the Eventbrite ticket link .
Saturdays, Jan 11-Jan 18, 10 AM-11 AM (Recurring event): Learn to skate (Hartford, CT)
Want to learn how to skate this winter? Head to the Winterfest Hartford rink in Bushnell Park for Free Learn To Skate Every Saturday from Champions Skating Centers instructors. Lessons are open to future skaters of all ages, and the skates are free too.
Skating lessons will be held on Saturdays and will be offered every weekend through the close of Winterfest Hartford (January 4, 11 & 18).
Arrive early to get your free skate rentals. All skaters must fill out a waiver before their lesson.
More info here
Saturday, Jan 11 (2 PM-3:30 PM), Family Paint Time "Rudolph" (Southington, CT)
Bring your family in to participate in a fun and easy step-by-step session led by a talented instructor from Art Studio of Connecticut. You will be provided all of the supplies you'll need to create your work of art! UPGRADE YOUR CANVAS SIZE TO A 16X20 FOR JUST $10 MORE…BYOB studio, bring whatever you would like to eat or drink!
Please arrive 5 mins early to grab a drink and find a seat. Instruction begins promptly at 11 AM.
More info here
Saturday, Jan 11, 2 PM-4 PM :Makerspace  (Bristol, CT)
Head over to Bristol Public Library on Saturday, January 11 at 2:00 to use your creativity and our library maker materials to learn about science, electricity, robotics, and more! Open to all ages with adult supervision. No registration required. More info here
Saturday, Jan 11, 2:30 PM-3:15 AM : Animal Embassy Children's Program  (Manchester, CT)
Meet a variety of fluffy critters when Animal Embassy visits the Whiton Branch Library! Recommended for children ages 4 and up. More info here.
Sunday, Jan 12 (10:30 AM-11:30 PM), Toddler Time: Story+Paint "Bunny Slopes"  (West Hartford, CT)
Join The Claypen for another fun toddler time! With the snow beginning to fall around us, it would be the perfect time to read, " Bunny Slopes"! For this morning event everyone will be making some board art using 6 x 6 wooden boards, acrylic paint, and sponges! Come get crafty!
More info here
Sunday, Jan 12 (3 PM-4:30 PM),Kids Yoga and Mindfulness  (Granby, CT)
Join Jessica in Granby Yoga Studio on Sunday, January 12 ~ 3-4 pm, For a playful yoga class designed for children ages 4-10.
Parent participation encouraged.
$12 per child (parent free).
More info here.
Sunday, Jan 12 (3 PM-4:30 PM), Reptiles and Amphibians, Oh My!  (West Hartford, CT)
Join Mandell JCC of Greater Hartford this Sunday, January 12, to explore the wonderful world of reptiles and amphibians!
Meet various examples from these two similar, yet different groups of animals. Learn about their natural history and the importance of their conservation. You will also have a chance to pet a lizard, stare into the eyes of a huge toad and touch a giant python!
OPEN TO THE COMMUNITY. Registration Required!
More info here