Halloween is tomorrow! Do you celebrate with a festive feast? This year, we are doing a Harry Potter themed dinner (I'll share more on that later!), but in past years, we have kept it pretty simple. Below I shared some of my favorite ways to eat Halloween-themed treats over the holiday. The best part? These treats are all kid friendly and easy for kids to help prepare!

Apple spider webs.
Keep it simple and just slice the apple and add some melted chocolate. Or make it a little fancier and add a lollipop stick. Either way, these are sure to be delicious. 


Ghost bananas.
Add a face to peel bananas. We've used chocolate chips, but chocolate frosting works easily as well!

Mummy hot dogs.
Kids love helping with these. Buy a pack of refrigerated biscuit or pizza dough. Slice it up into little strips and wrap it around hot dogs of any size! Add eyes if you want – we normally don't, only because I don't normally have the supplies!

Pumpkin clementines (or oranges!)
Yesterday my nine year old daughter and I were packing her treat for her Halloween party today at school. She reminded me of the time I drew a Jack-o-lantern face on her clementine for Halloween. She said the kids in her class thought it was a mini pumpkin! There are a couple ways to do this. You can draw a face on the clementine peel, or stick a celery stick in the middle of the clementine once it's finally peeled.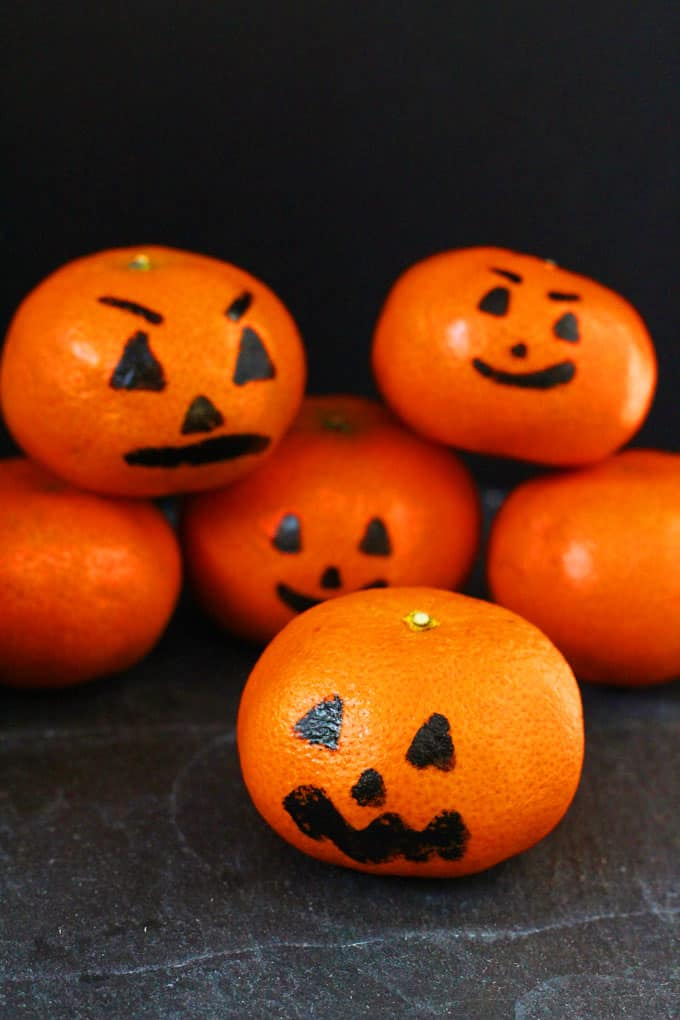 Chocolate covered spider-web pretzels
For starters, put some parchment paper on the counter. Grab some pretzel rods and arrange them in the shape of a star. Melt some chocolate chip in a microwave or on the stove (stir frequently!) and make rings around the pretzel rods. Add some other colors, spiders, or other items to make them more spooky if you want. Let the chocolate set. Once firm, peel off the parchment paper and enjoy!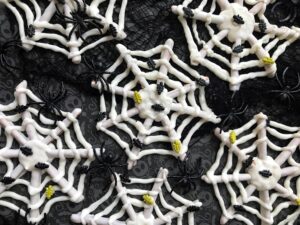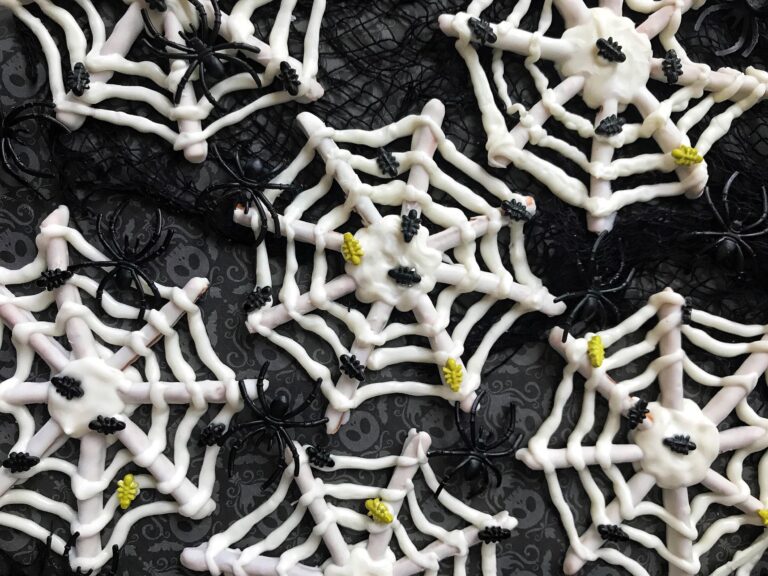 Dirt cups
First, make some chocolate pudding! We typically save time and make ours from a package. Crunch up some Oreo cookies. Then add some worms! You can also add some gummy pumpkins, a cookie gravestone or anything else to spook it up.

Monster mouth apples
Making these monster mouth apples is as simple as making a peanut butter sandwich. Slice up some green apples, add some peanut butter and some marshmallows for teeth. Put the two halves together and you've got yourself a monster mouth sandwich!

Mummy mini pizzas
Kids love to decorate their own pizzas and help out in the kitchen. Grab some premade pizza slices, or some English muffins. Add some pizza sauce (make our own or open a jar). Kids can create their own mummy by placing cheese in the desired spots and then add olives for eyes. My kids would only add eyes with the condition that I wouldn't make then eat them (not a lot of olive fans in my household!). Pop them in the oven until golden brown and the cheese is melted!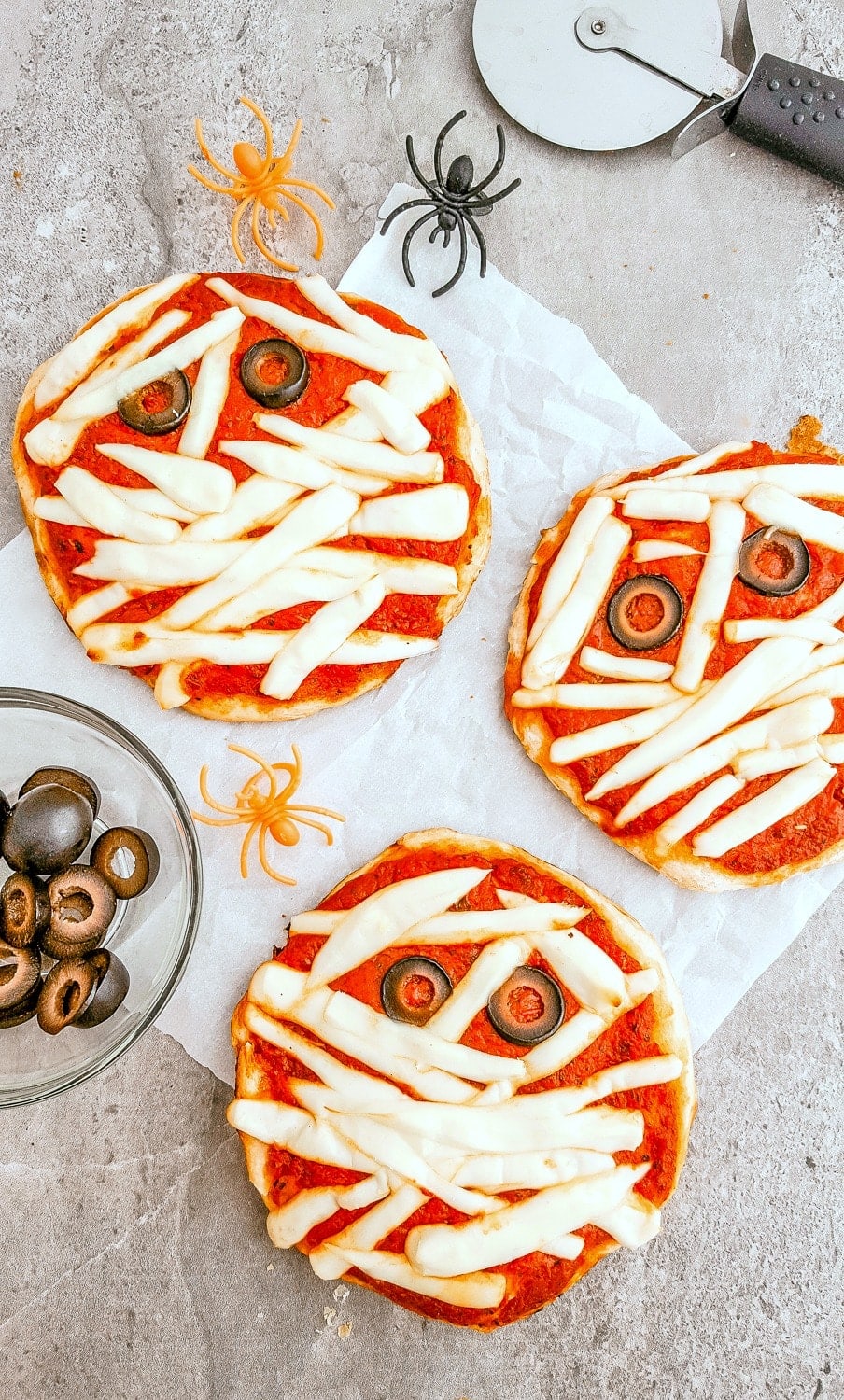 Spider oreos
This one is as easy as it looks. Grab some Oreos, pretzel rods and M&M candy pieces. Break the pretzel rods in half, stick them in the Oreo frosting and add M&Ms on top to act as eyeballs!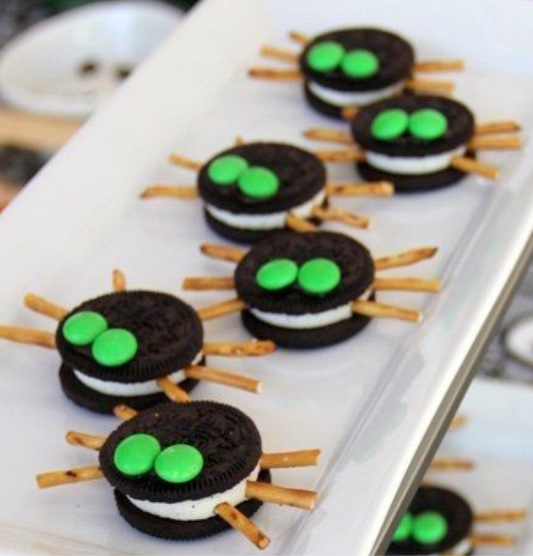 Ghost strawberries
This one is fairly easy to accomplish. Melt some white chocolate in a microwave or on a stove (stirring frequently!) and then dip your strawberries in the chocolate. Once the white chocolate has hardened, add some ghost faces!

Bat oreos
For this treat, take the top of an Oreo cookie and cut it in half. These become the wings. Slide them in the frosting of another whole Oreo cookie. Add some eyes, with frosting and some chocolate chips, maybe include a smile, and you've got yourself an Oreo bat!

Scary string cheese
This might be the simplest treat of the bunch, similar to the pumpkin face clementines. Use a sharpie to draw some ghost faces on the wrappers of some string cheese, throw it in a lunch pail and your kids have a spooky friend joining them for lunch!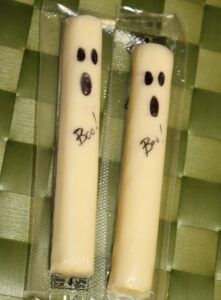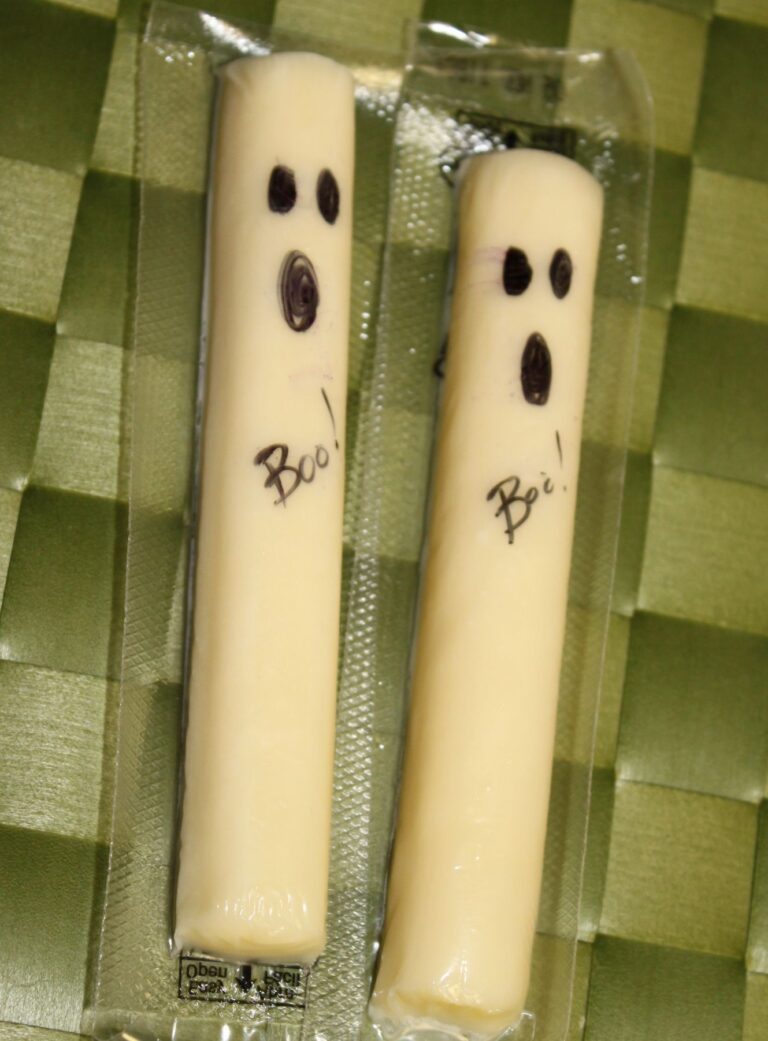 Witch hat cookies
This might be the hardest treat of group, but still a simple treat for the weekend! You can make sugar cookies (from a box or homemade) and top them with a Hershey kiss as they come out of the over. Or, to make things simpler, buy a pack of peanut butter cookies. Flip them upside down, add a dollop of frosting (any color will suffice) and squish a Hershey kiss on top. These are so fun to eat and kids love to help!