Events Search and Views Navigation
November 2019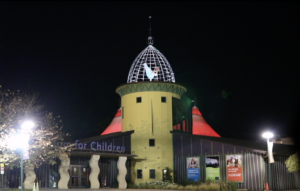 For Worldwide Community Lights Celebration at Stepping Stones 2019 each night the museum is transformed into a dazzling holiday light extravaganza! Every surface of the museum's exterior becomes a canvas for animated projections, glowing LEDs and an explosion of color. The amazing nighttime display is paired by day with STEAM adventures, interactive storytelling and hands-on art making taking place indoors. The celebration includes the introduction of Light Nights, a special schedule of extended, evening hours filled with holiday hijinks and…
Find out more »
December 2019
Children will learn about 3-d art. Weeks one and two will be creating paper sculptures using paper techniques; rolling, twisting, cutting and bending paper. Students will create fun 3-d "amusement park –scapes" with assorted papers. Weeks three and four will explore self -drying clay sculptures that will be painted and decorated.
Find out more »
Join us as we Countdown to Noon! The premier New Year's Eve event for children and families in southeastern Connecticut. Save with advanced registration! CMSECT partners with East Lyme Parks & Rec to present this celebration at East Lyme Community Center, 41 Society Rd., Niantic, CT. Museum is closed New Year's Eve as all the fun has moved just minutes away! Family fun includes: Exploring the constellations with "StarLab." Build, create, imagine with "Lets Get Building." "Crazy Science" and activities…
Find out more »
POST YOUR EVENT ON OUR CALENDAR!
There is an advertising fee of $30 for public events that have admission. Free community activities and charitable fundraisers are on us!
Please purchase the listing via PayPal before proceeding.

THANK YOU FOR TRUSTING US TO
PROMOTE YOUR EVENT!
Questions:  advertising@kidtivity.com or call 860-378-7583