Winter Wonderland Walk
November 28, 2020

-

January 6, 2021

$3 – $15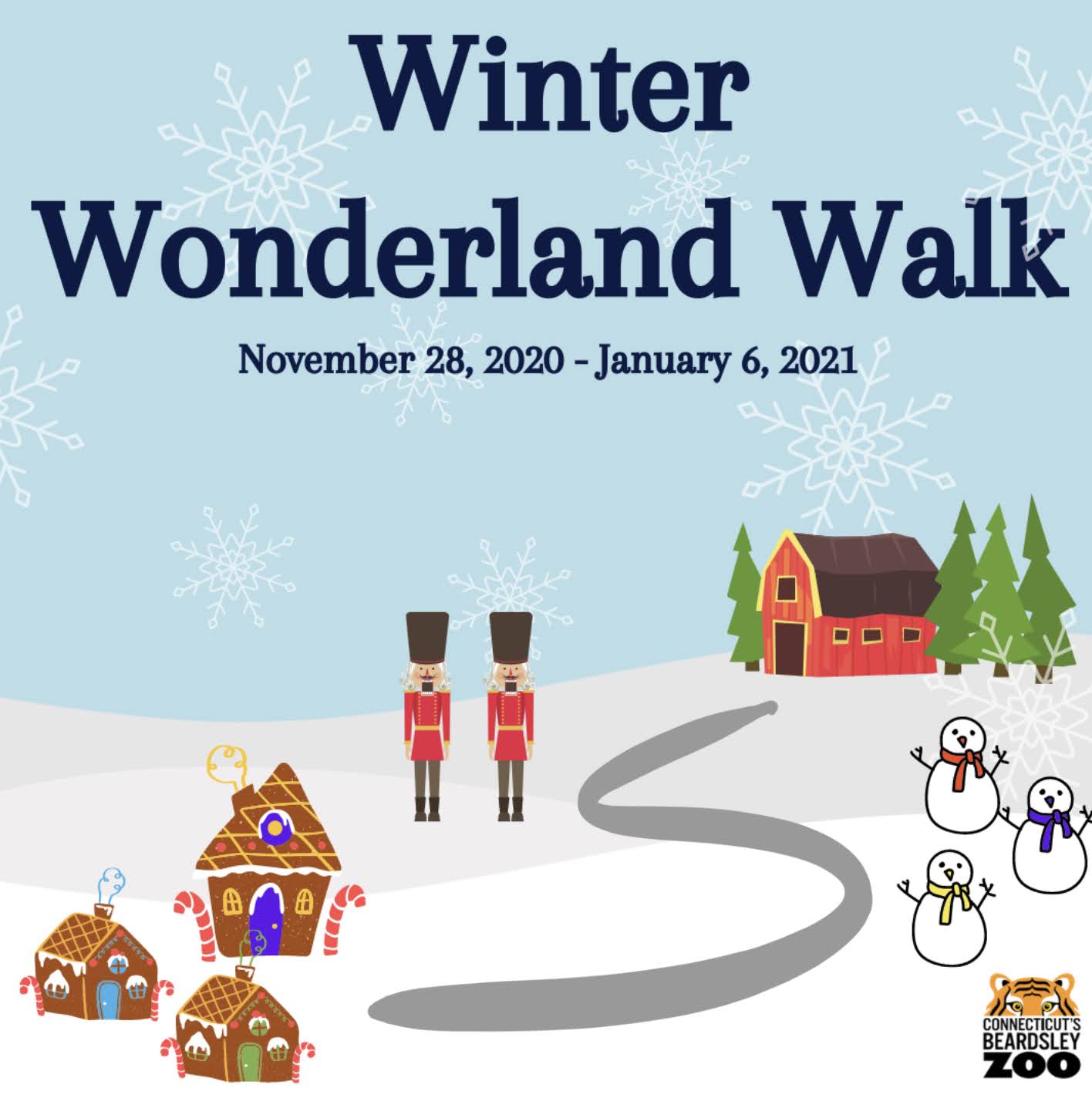 Connecticut's Beardsley Zoo will transform into a Winter Wonderland from November 28, 2020 through January 6, 2021, offering guests yet another opportunity to enjoy the beauty of nature in a safe, outdoor setting. The Winter Wonderland Walk includes ten festive vignettes, from Fairy House Lane and a very special train display, Imagination Station, to custom artist and children-designed snowmen, a Hanukkah Plaza, and Kris Kringle Corner.
The Winter Wonderland Walk will be open seven days a week from 9-4, beginning the Saturday after Thanksgiving. The Walk is included in the price of admission. Members enter for free. To help our friends in need, we are offering a $1 voucher to our Cafe or Gift Shop if a guest brings in a non-perishable food item for our local food pantry. Limit 2 vouchers per family per visit.
Zoo admission is $15 for adults, and $10 for children 3-11 and seniors over 62. Children under three are free.
Polar Palace: The Gazebo has been magically transformed into the Polar Palace, where glittering icicles are the wintry backdrop for your holiday photos.
Fairy House Lane and Imagination Station: A 16-foot display of natural fairy houses surrounded by a fairy forest twinkles with tiny lights. An "I Spy" list promises hints on how to find the artist's droll little details. The Wonderland Train features a snowy New England Village, complete with ice skaters, a snowball fight, a toy shop and a candy forest. Inside the south side of the Victorian Greenhouse.
Poinsettia Pass: More than 500 poinsettias nestle among the tropical foliage on the north side of the Victorian Greenhouse.
Winter Village Square: This old-fashioned Christmas town, 23 feet long and 7 feet high, is a charming backdrop that sets the stage for a jolly holiday visit.
Snowman Park: A Snowman Design Contest was held for both children and adult artists, and the winners are clustered in a circle near the W.O.L.F. Cabin. Twelve children's designs are reproduced on two-dimensional faux snowmen; four adult artists created one-of-a-kind pieces of faux snow art.
Nutcracker Place: A pair of 12-foot tall Nutcrackers stand guard in front of Nutcracker Place in the Peacock Pavilion, keeping a watchful eye on the festive tree and piles of presents.
Dreidel Drive: A large multi-branched menorah, the Hebrew word for lamp, lights up children's imaginations and represents the candelabra found in Jewish homes during Hanukkah.
Gingerbread Boulevard: Eight colorful gingerbread houses, each five feet high, encircle the fountain. Their whimsical candy details look good enough to eat.
Kris Kringle Corner: If you've been sweet as sugar all year long, then bring your letter to Santa and mail it in the North Pole Postbox next to Santa's Sleigh.
Evergreen Lane: Come visit the North Pole's enchanting tree farm, gaily decorated with 70 red plaid bows. Sure to make you smile!
Related Events