Night Out With Your Teen to the High-Energy STOMP Performance
January 17, 2019 @ 8:00 pm

-

10:00 pm

$39 – $52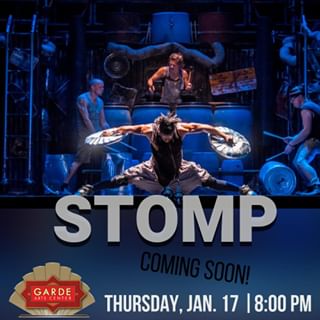 Night Out With Your Teen to the High-Energy STOMP Performance!
Why? Because STOMP is an explosive, inventive, provocative and unforgettable experience for audiences of all ages. The eight-member troupe uses everything but conventional percussion instruments – matchboxes, wooden poles, brooms, garbage cans, Zippo lighters, hubcaps – to fill the stage with magnificent rhythms The international percussion sensation has garnered armfuls of awards and rave reviews and has appeared on numerous national television shows.
From its humble beginnings, STOMP has grown into a worldwide phenomenon that has electrified audiences for nearly 25 years. STOMP was the result of a ten-year collaboration between its creators, Luke Cresswell and Steve McNicholas, who first met in 1981 as members of the street band Pookiesnackenburger and the theatre group Cliff Hanger. After a highly successful period of touring, Pookiesnackenburger produced the acclaimed 'Bins' commercial for Heineken lager. The famous ad would be the starting point for STOMP'S climactic drum performance.
In 1986, Luke and Steve created an eight-minute percussive movie for Bette Midler's HBO special Mondo Beyondo. After five more years of touring and honing their passion for live percussion and dance, the duo launched STOMP in 1991 at London's Bloomsbury Theatre. Over the next three years the show performed to critical acclaim and sold-out auditoriums across the world.
STOMP came permanently to America at a run at the Orpheum Theatre in New York in February 1994; by the summer of 1994 the first American cast was in place, freeing the original cast for sell-out tours of North America and Japan. In 1995 two more American productions were created for the sole purpose of US touring, which continues to this day. In 1996 STOMP performed at the Academy Awards, to mark the Oscar nomination the show received for their short film, Brooms, based around the show's opening routine. A year later legendary producer Quincy Jones invited the troupe to collaborate on his album, Q's Jook Joint.
In 2012 STOMP received the honor of being asked to perform as part of the closing ceremony of the Olympic Games in London. The show's biggest ever troupe was brought together – 40 performers from 12 countries – to wow the world and bring the games to a close.
The Garde Arts Center is nationally recognized for its unique architecture and dynamic programming serving Southeastern Connecticut. Located in the heart of downtown New London, the historic Garde theatre is one of the few remaining historic movie palaces in Connecticut. The Garde was built in 1926 during the golden era of the motion pictures and vaudeville theatres. The restored Moroccan interior of the Garde Theatre and expanded lobbies and function spaces provide a very audience-friendly theatre venue in a warm and beautiful atmosphere.
Related Events