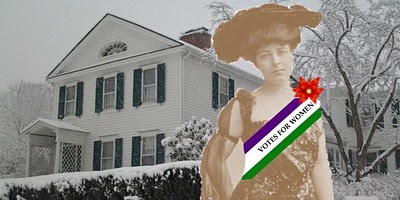 CELEBRATE THE SUFFRAGISTS THIS HOLIDAY SEASON
Commemorate the 101st Anniversary of the Nineteenth Amendment of the United States Constitution with the Holiday Tribute to the Suffragists! Visit the Osborne Homestead Museum in Derby, Connecticut and learn about the courageous women and men of the women's suffrage movement. The holiday tours will run from November 26 through December 18, 2021. Self-guided and a limited number of docent-led tours will be offered Thursdays through Sundays from 10AM to 4PM. On Fridays, December 3, 10, and 17, the museum will present "Twilight Tours" to display the amber glow of the decorations from 4PM to 7PM. For more than thirty years, volunteers have created the gorgeous holiday decorations at the museum. Garden clubs and local organizations have decorated twelve rooms honoring the women and men of Connecticut, the United States, and abroad who fought for women's suffrage. These talented and committed volunteers are Derby Garden Society, Friends of Derby Neck Library, Naugatuck Garden Club, Olde Ripton Garden Club of Shelton, Garden Club of Orange,Valley Arts Council, Women Redefining Retirement Milford, Garden Club of Woodbridge, and Ye Olde Kellogg Garden Club.
This year's theme, "Holiday Tribute to the Suffragists", is a belated celebration of the centennial anniversary of the 19th Amendment granting women the right to vote. Frances Osborne Kellogg was a suffragist and auditor of the Connecticut Woman Suffrage Association. She is among many activists who will be recognized in the women's suffrage movement.
Visit the Osborne Homestead Museum and learn how women won the right to vote! Because your health and safety are our priority, the museum will offer limited docent-led tours at 10am and 3pm and self-guided tours from 11AM-3PM and 4PM-7PM during the Twilight Tours. Pre-registration is required for all tours. Tour tickets can be booked in advanced by calling 203-734-2513, emailing D[email protected], or visiting the online registration page at https://outlook.office365.com/owa/calendar/[email protected]/bookings/. Admission is FREE and donations are accepted. The Osborne Homestead Museum, a facility of the Department of Energy and Environmental Protection's State Parks & Public Outreach Division, is open for free tours on Thursdays through Sundays from 10:00 a.m. to 4:00 p.m. It is located at 500 Hawthorne Avenue off Rte. 34 in Derby, CT.
The New Normal Health & Safety Guidelines for CT State Parks provides important guidance for participants and visitors (https://portal.ct.gov/-/media/DEEP/COVID-19/Health_Safety_Flyer_NN_Final.pdf). For further information or directions, please email [email protected] or phone the Kellogg Environmental Center at (203)734-2513.