Fall Festival for Kids-Open House
October 17, 2021 @ 2:00 pm

-

6:00 pm

Free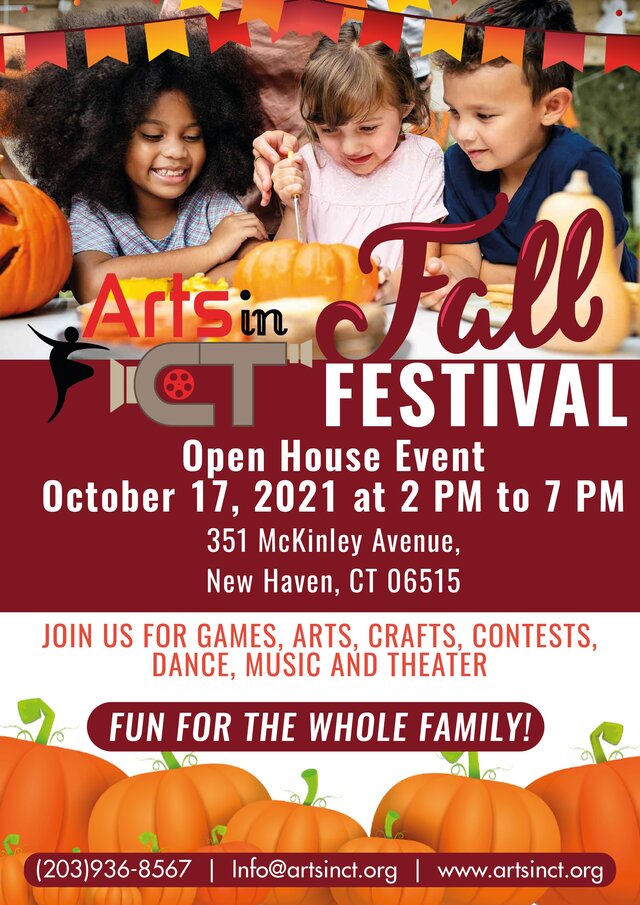 ARTS IN CT Hosts FALL FESTIVITIES
OPEN HOUSE EVENT
Arts in CT hosts their first Fall Festivities Open House Event featuring live performances and family-friendly activities.
New Haven, CT (September 25, 2021) – Arts in CT, a nonprofit arts organization founded in 2016, celebrates its Fall Open House Event in New Haven. Event will take place October 17th, 2021, 2:00 PM – 6:00 PM EST at 351 McKinley Avenue, New Haven.
Arts in CT's Mission is to inspire, enrich, and support the state of Connecticut by offering quality arts programs in visual, performing, consumer, industrial, horticultural, martial, architecture and more. They provide programs to schools, parks and recreation, daycare centers, libraries, senior centers, homeschool communities, and community partners.
"Due to the pandemic, there has been a yearning for an environment that allows creative expression to bring back that sense of normalcy," Martha says.
This inspired Barbara Alexander, Executive Director/Founder of Arts in CT, to host its open house event. Alexander wanted to give all vendors and the community an opportunity to see what Arts in CT has to offer. Arts in CT have served over 15000 students and 34 cities and towns in the state of CT thus far.
The event hopes to spark a memorable afternoon by making fun activities such as Pumpkin Tosses, Face Painting, Scarecrow stuffing, and edible arts available for all in our social distance format. Workshops, taught by our in-house professional artists, will be available to provide a first glimpse of what it would be like to have our Arts Integrated Programs in your schools and facilities. These include workshops on dancing, singing, visual art, horticulture, and more!
The event will be free of charge and will provide swag bags for your generous donations.
This is event is sponsored by Community Grant Foundation and The Peter and Thomas Dipietro Foundation.
You can get involved by joining their first open house fall event!
Register NOW to attend Arts in CT's free open house event by clicking this link.
Want to join our cause or make donations to help fund this event? Contact
Arts in CT Corps
351 McKinley Ave
New Haven, CT 06515
(203) 936-8567
INFO@ARTSINCT.ORG
WWW.ARTSINCT.ORG
#artsinct #fallfestival #newhaven
Help us spread the word!
Related Events