Auditions for You've Got Talent Virtual Talent Fest
February 26, 2021 @ 7:00 pm
$10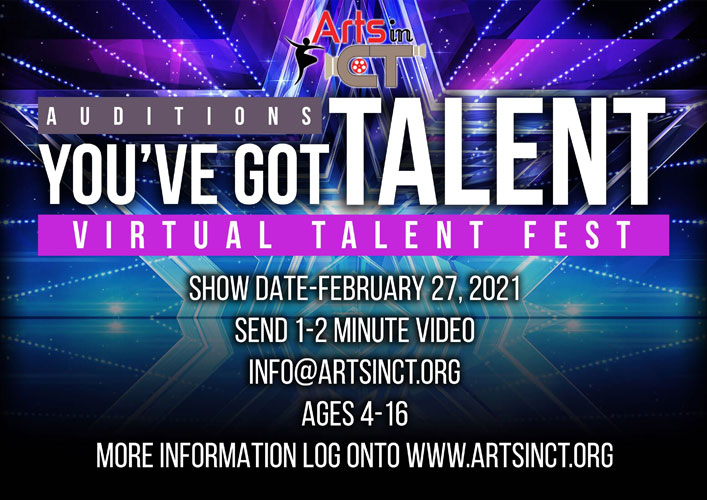 Arts in CT will be hosting a You've Got Talent-Talent Fest for ages 4-16
Arts in CT believes that in this time of the pandemic, we can use the arts as a tool to raise awareness and advocacies. We use arts as a medium of communication and entertainment. This pandemic cannot stop the passion of Arts in CT to bring arts to you, as a result, we are launching a You've Got Talent-Talent Fest for ages 4-16.
You've Got Talent Talent Fest is an online virtual talent show, showcasing children from ages 4-16. We will be selecting at least 20 of your most creative artistic children to enter. The show will be live online inviting our friends and family to see our shining stars. This first talent fest is not a competition but a showcase.
Please submit a short video of you showcasing your talent in music in any form (clean and kid-friendly), dance, or theater (poetry, spoken word, Shakespearean or traditional theater). The video should be in high definition and should only be in 1-2 minutes. Please send in your submissions to info@artsinct.org including your name, age, phone number, and email. But please be informed that they will be reviewed and those selected will be notified. Please email us your submission to join in this Talent Fest by January 20 to info@artsinct.org.
The performance date will on February 27, 2021, at 7 pm est. This is a virtual event for all. For more information please contact Arts in CT at +12039368567 or info@artsinct.org. You can also check our website at artsinct.org. Tickets for this event will $10 on zoom.
Arts in CT is a 501(c)(3) nonprofit organization committed to bringing the arts into diverse communities and art deserts to help individuals of all ages, abilities, cultures, religions, and socioeconomic backgrounds pursue their creative and artistic dreams.
Please note that this is a nonprofit fundraiser to help raise funds for free programs for youth ages 4-16. For more information about the organization, you check out our page at https://www.artsinct.org/.