If have childhood dreams of riding aboard the Polar Express, you're in luck. There are SO MANY Santa-inspired train events happening in Connecticut this Christmas.
Photo Credit: Kim Tyler Photography

Board our locomotive-powered sleigh for a magical nighttime journey to the North Pole. Every coach becomes a stage for a LIVE musical performance of "The Night Before Christmas." Celebrate the spirit of the season with Santa and Mrs. Claus, festive sing-a-longs, hot chocolate and sugar cookies.
Each child will receive a small gift from Santa. Children are invited to wear their favorite pajamas! Make sure those PJs are warm and cozy…it's cold up at the North Pole!
Tickets go on sale September 12th and 13th- definitely want to jump on those quickly, as they will sell out fast! Have your account created in advance, and be ready to go at 9AM.
The train runs:
Friday – Sunday, November 17 -November 26
Wednesday – Sunday, November 30 – December 17
Wednesday – Saturday, December 20 – December 23
Tickets range in price from $50-$90.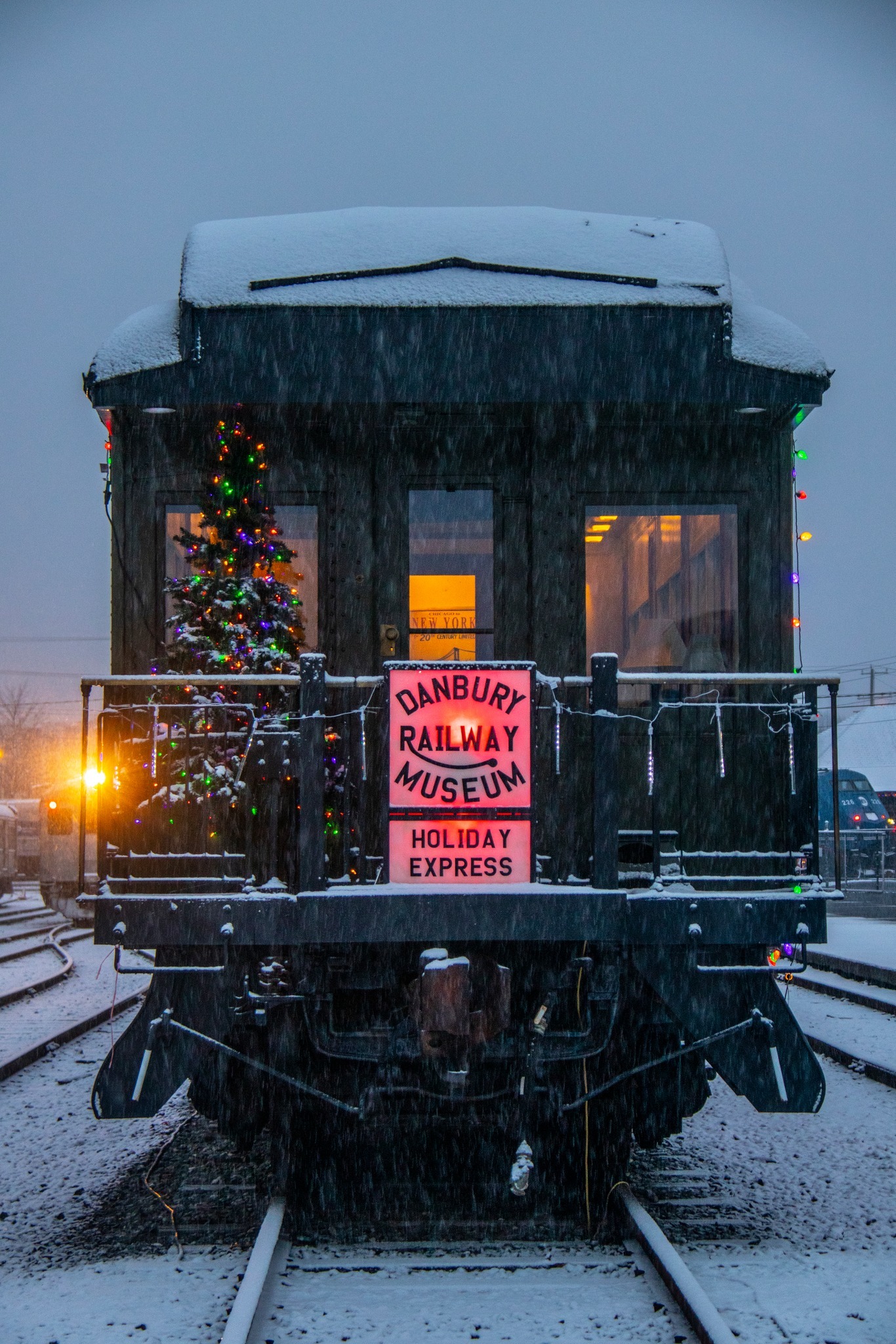 Photo Credit: Danbury Railway Museum
All aboard The Snow Clipper for the First Gift Express! The Danbury Railway Museum's Christmas Fundraiser begins Saturday, December 3rd and runs every Saturday and Sunday through December 18th, plus Friday, December 23rd.
When you arrive and check in at our restored 1903 train station, kids and parents will be able to enjoy the museum interior. This includes a Letters to Santa coloring station, operating model railroads, and interesting museum exhibits. (Be sure to include your mailing address, as Santa writes back!)
After a very short train ride in a restored 1950s Rail Diesel Car through historic Danbury Railyard, you'll be escorted back to the station for a meet and greet with Santa and Mrs. Claus, where the big man himself will give out the first gifts of Christmas!
Afterwards, you are free to enjoy a walk through our railyard with a cup of hot chocolate. Don't forget the marshmallows!
Tickets are $25 per person, required for children ages 2+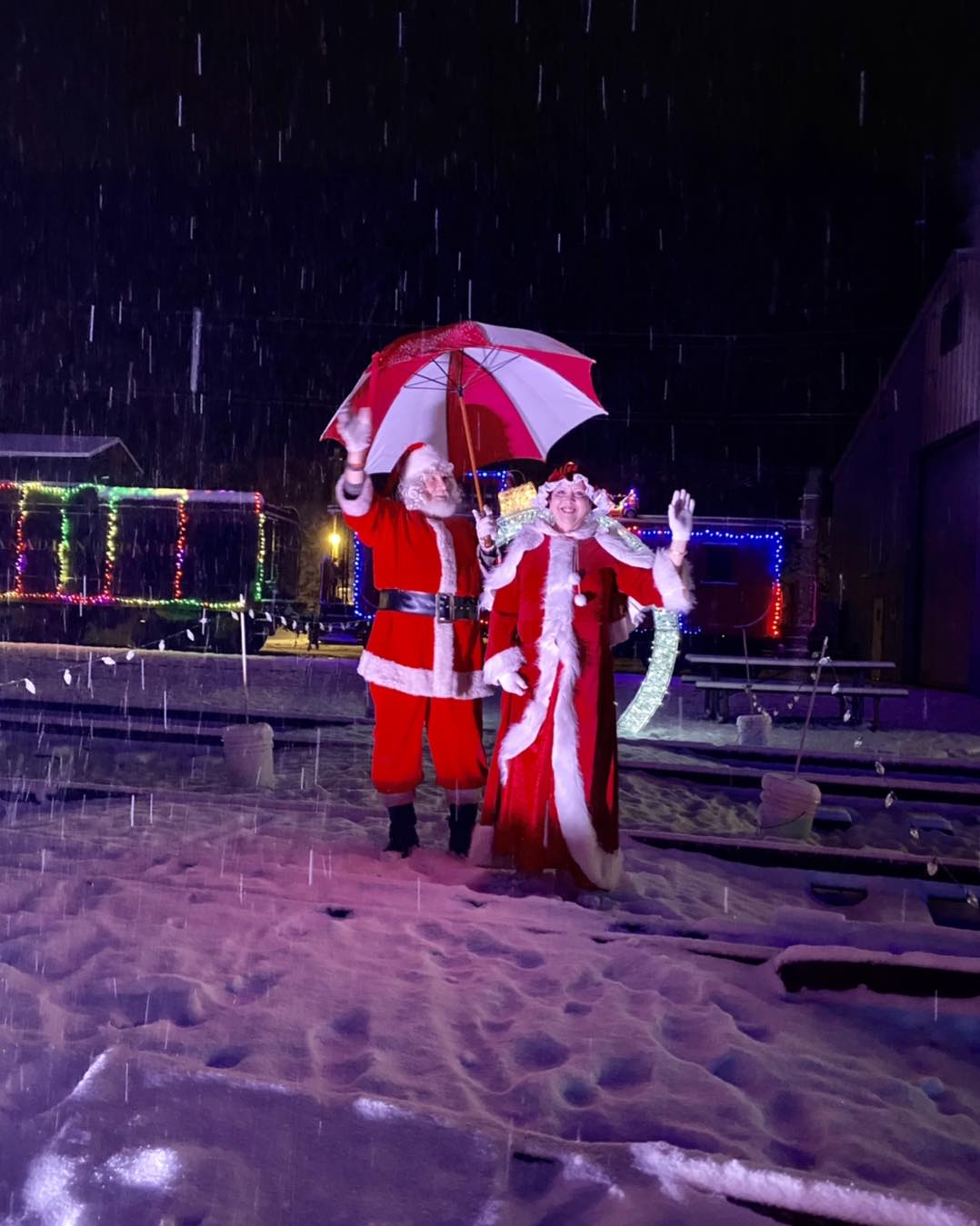 Photo Credit: Railway Museum of New England
The Northern Lights Limited is the evening train, departing Thomaston Station for Santa's Workshop. The Santa Express is the afternoon train.
Upon departure, you will be taken directly to the Santa's Workshop, picking up Santa and Mrs. Claus for all to see. Once on board the train, Santa and Mrs. Claus will take turns visiting with all those on board as the train slowly glides along through the night. While Santa is visiting each of all the good boys and girls on the train, his team will keep you busy dancing and singing along to the music. Each child will get an extra special gift from Santa's toy bag.
Santa Express is scheduled @ 12pm and 2:15pm most days other services are running. Northern Lights is scheduled @ 5pm and 7:15pm most days other services are running.
Tickets range in price from $22-$125.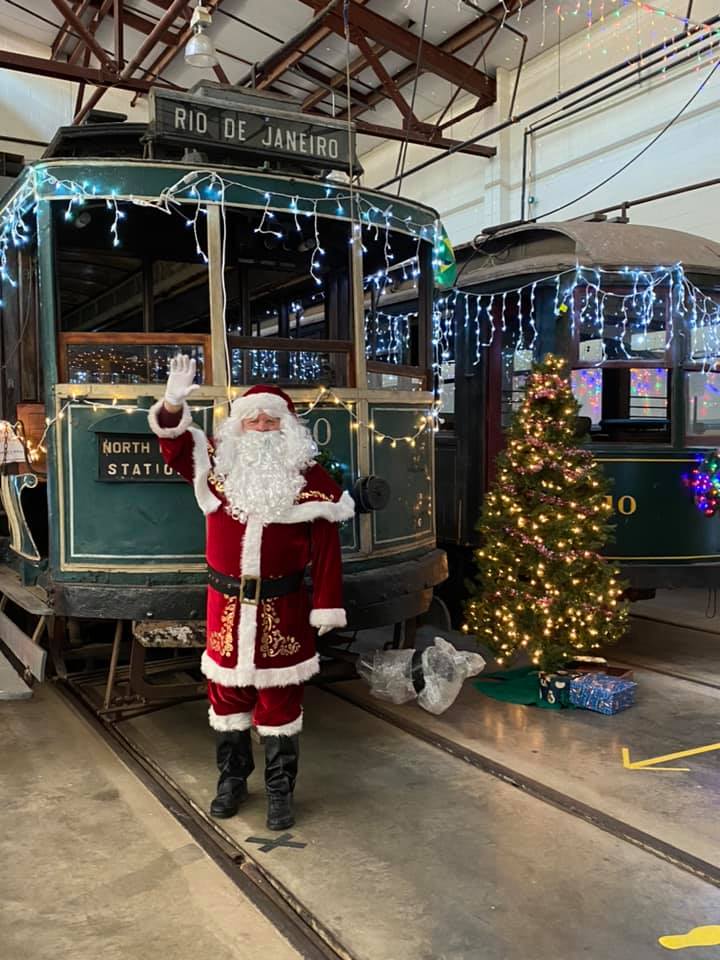 Photo Credit: Connecticut Trolley Museum
Winterfest and the Tunnel of Lights is celebrating its 45th year as a family holiday tradition. Halls are decked both inside and outside with over 15,000 lights. Outside, closed trolley cars transport jolly guests down a tunnel of lights for 20-30 minutes as they sing traditional Christmas carols with their trolley car operators. For an open air view of the Tunnel of Lights, one open sleigh car is lit up entirely with holiday lights. Be sure to dress warm and bring blankets! Inside, the Visitor Center is decorated like a Winter Wonderland with multiple model train layouts and lights galore.
Winterfest runs weekends from 11/24/23 to 12/30/23.
Tickets prices TBD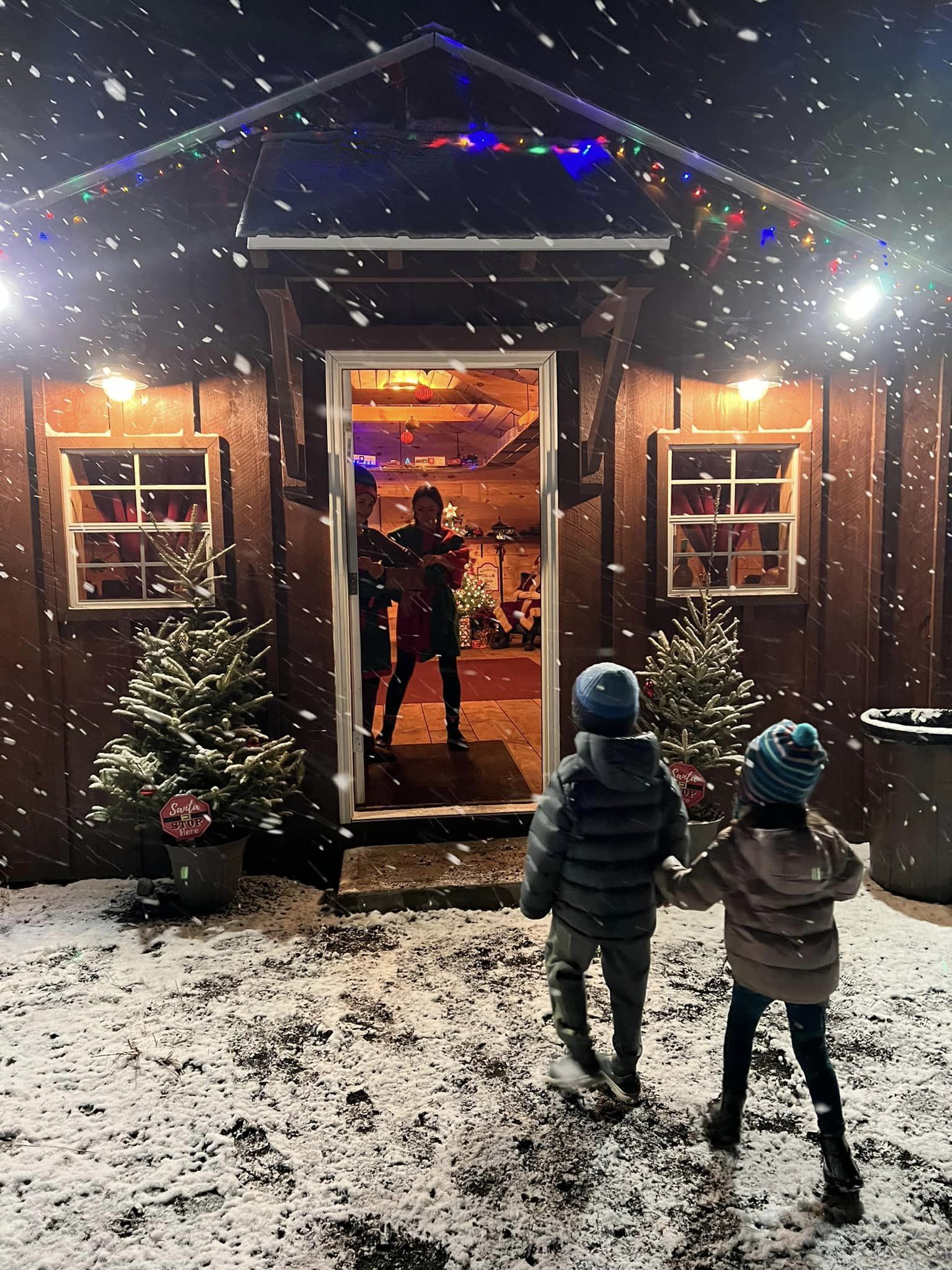 Photo Credit: John Cavanna
John Cavanna is currently constructing a standard gauge railroad in South Glastonbury, CT located at Cavanna's Farm.
This is one of the most unique and intimate experiences a family can get when it comes to meeting Santa at his North Pole cabin. It opens the weekend after Thanksgiving and runs train service to meet Santa through Christmas Eve.
Families will be transported through a Christmas tree farm where a hidden cabin awaits. Upon climbing down you will be greeted by a picturesque cabin that Santa lives in. Parents can bring a gift for Santa to give their child- it really blows their minds when he knows their name and everything.
Outside food is not permitted (snacks for young kids are fine), but they partner with local restaurant if you'd like to order food.
Tickets are $35 each, cash only, and must be purchased day of on the farm. The entire train can be reserved for private bookings for $1000.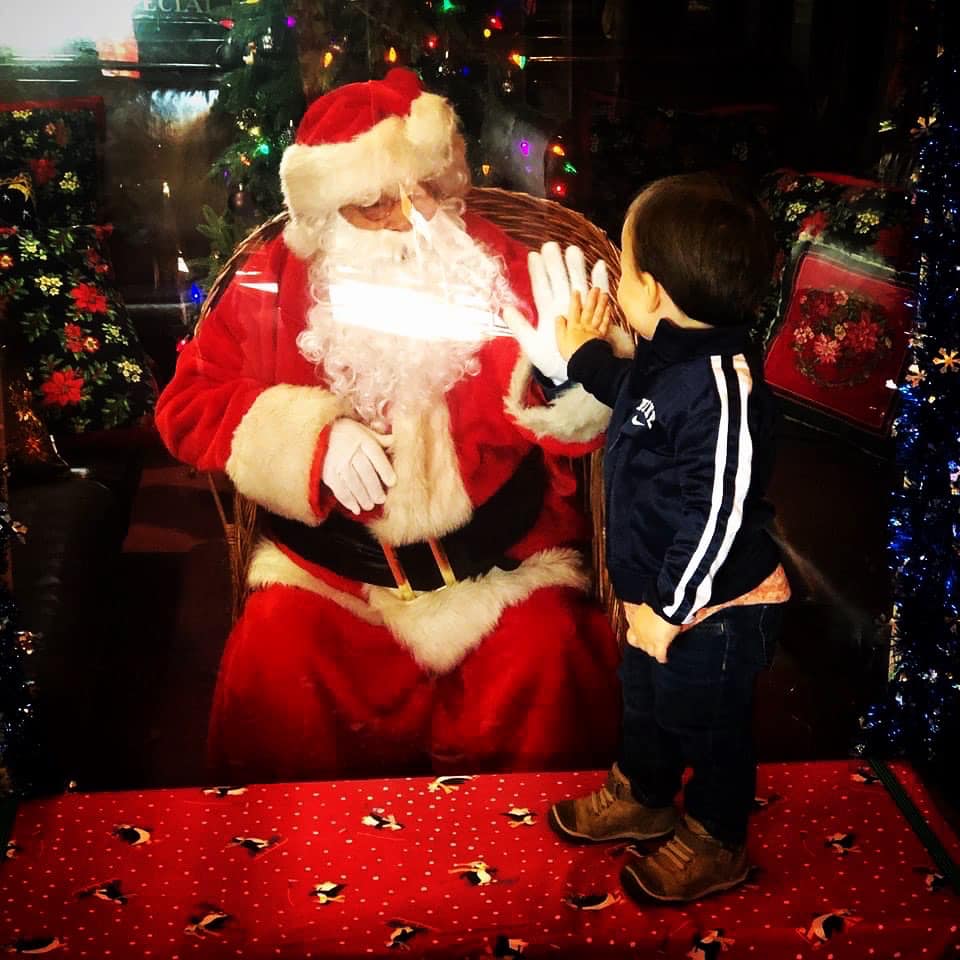 Photo Credit: Shoreline Trolley Museum
Santa comes to visit at the Shoreline Trolley Museum!
Visiting with Santa Trolley information  for 2023 will be coming in September.
As always, information is subject to change so definitely check before you head out! Also, let me know if I missed any holiday trains!